A group of New Jersey state champion high school wrestlers has been disciplined for a disturbing and racist photo that appeared on a social media site. According to NJ.com, Phillipsburg School District Superintendent George M. Chando said "actions were taken" to punish the student-athletes. Chando did not elaborate on what actions were taken.
The photo shows seven members of the Phillipsburg High School wrestling squad posing with a black wrestling dummy being hung from the ceiling by a rope wrapped around the neck. Two of the wrestlers can be seen wearing hoods drawn up into a KKK-style point and one wrestler can be seen saluting, while another wrestler in the foreground is holding a wooden paddle.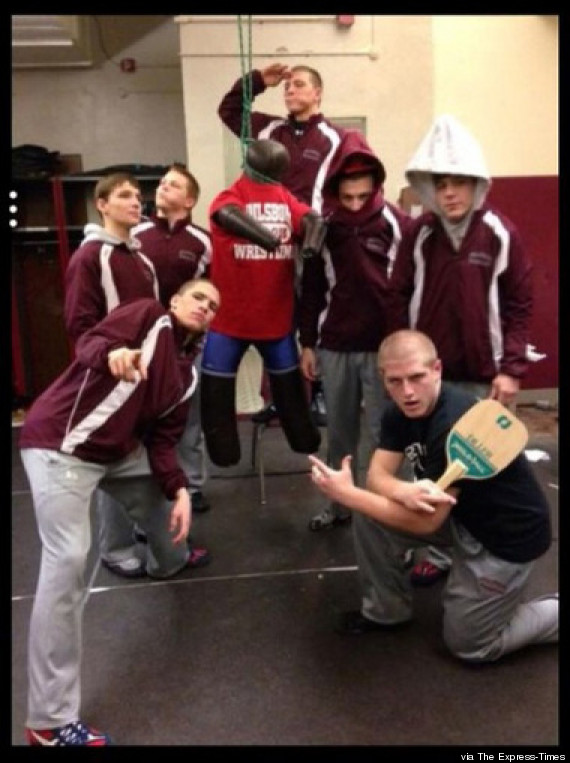 Photo courtesy of LehighValleyLive.com.
The wrestling dummy is wearing a Paulsboro High School wrestling t-shirt. Phillipsburg and Paulsboro, perennial rivals in New Jersey high school wrestling, met on the mats earlier this month. Phillipsburg beat Paulsboro on their way to winning the Group 4 State Championship this past weekend.
State Champions!! Congrats to the wrestlers and coaches. pic.twitter.com/ZjqHg7TMLF

— Mr. Troxell (@pburgprincipal) February 16, 2014
As The Daily News points out, "According to the 2010 Census, 7.5 percent of the residents in Phillipsburg, located 19 miles northeast of Allentown, Penn., are black. In contrast, 36 percent of Paulsboro's residents are black."
"We've had a 15 or 20-year-history of outstanding wrestling contests between the two schools," Walter Quint, Paulsboro schools Superintendent, told the South Jersey Times. "In all cases, the wrestlers and teams have had good competition. "This is just unfortunate. It diminishes two quality programs that respect each other. What was in that picture was just plain wrong."
This Saturday, Phillipsburg is hosting a District 1 postseason tournament for state individual titles. It's yet to be seen if the school's punished wrestlers will take part in the tournament.