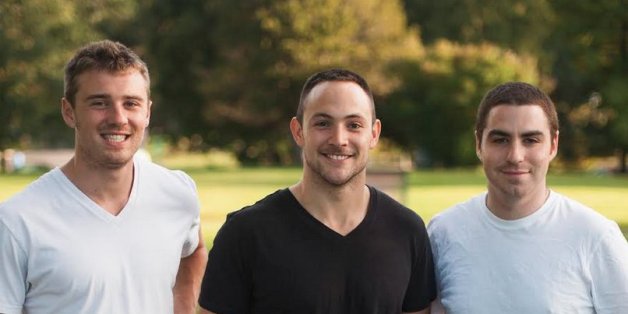 Ian Dickerson always heard his father when he spoke about helping those in the world who can't help themselves, but he didn't realize how much he internalized that message until he took a good, hard look at a jar of pocket change.

A Southern California native, Dickerson decided to swap coasts after high school and enroll in Syracuse University, excited by all that the new environment could offer. He ran track, joined a fraternity and channeled his entrepreneurial desire into his coursework at Syracuse's information studies school, iSchool. Each day when he returned home, he transferred a handful of coins from his jeans to the jar on his desk and never thought much about it -- until his junior year.

"I was sitting in my room staring at my big jar of change," Dickerson told The Huffington Post. "It was just meaningless change to me. But then I realized, there's so much good that can be done with this small amount, and there's a ton of people like myself that have this meaningless change that want to do some good, too."

Dickerson ran with this inspiration in a spring semester course on how to bring entrepreneurial ideas to life, searching for a way to convert the change into helping charities. "Oftentimes people are asked to donate to charities they wouldn't choose, at times that aren't convenient and with amounts they can't afford," Dickerson said. He wanted to create a way for people to give back that was applicable, affordable and a seamless part of everyday life.

As class mentors and advisers helped Dickerson refine his idea, he realized that recruiting a team of his own would help turn the idea into a reality. Fraternity brother Mike Smith and track teammate Frank Taylor jumped right in, forming the trifecta that expanded the jar of pocket change into Centscere, a new platform that transforms the power of social media into charitable giving.

"It really enables people to be in complete control over their charitable giving," Dickerson said. "If you look at donation statistics, most of them are focused on older generations giving higher amounts. Centscere is ideal for millennials and the younger generations that don't have a current method of donating."

When a social media user joins Centscere, they choose a charity as well as amounts they are willing to give for each of their social media activities.
"We have people currently giving as little as $0.02 and as much as $1 per interaction," Dickerson said. Three different social media interactions will trigger a donation: a Facebook post (including commenting, uploading a status and sharing a link), "liking" a post on Facebook, and tweeting or retweeting content on Twitter. Once the value of a user's interactions reaches $7.99, a donation is made to his or her selected charity. Centscere ensures that 95 percent of the funds raised go directly to the organizations.

Dickerson, Taylor and Smith realized the true potential of Centscere when they won the Startup Weekend Syracuse competition in 2012. "We weren't really sure people would catch onto the idea, but when we won we realized that we have a viable concept, people understand it and if we want to pursue it, it'll work," Dickerson said.

Riding the momentum, the Centscere team applied for Syracuse's next level of startup support, Startup Lab. The three were denied entry at first, but did not let that stop them from giving it a second try and were accepted for the January 2014 Lab. "We were so passionate about the idea and knew that it was worth the wait," Taylor said. "It just pushed us to work harder and develop more over the next year."
They officially launched Centscere at the conclusion of the three-week accelerator program. Since debuting on Jan. 21, Centscere has registered about 75 active users who have raised around $250 for their various charities.

Currently, Centscere offers users 16 charity partnerships, including Syracuse Habitat for Humanity and the Juvenile Diabetes Research Foundation. The founders have big goals for Centscere's future, aiming to secure at least 50,000 users and more charities in the upcoming year. "Down the road, Centscere will be the way to turn everyday behaviors into charitable moments, and not just on social media," Dickerson said. "I would like to branch out into other categories that embody everyday behavior and bridge philanthropy with that, but social media is a great start for us."

While balancing schoolwork, sports and startups can be tough for three 23-year-olds, Taylor said he benefited the most from his experience with Centscere during his years at Syracuse. "Being a part of a startup, I've learned so much more from actually trying to do it -- committing myself, learning from our mistakes and working with people -- rather than sitting in a classroom," he said. "At the end of the day, I'm not doing this for a grade. I'm doing it to make an impact on the world."

Dickerson, Taylor and Smith look forward to helping charities build lasting donor relationships through Centscere and adding value to social media. "I know I spend a lot of time tweeting and on Facebook, and I get frustrated with the fact that it doesn't have a true impact," Dickerson said. "And now I've sat there a few times and tweeted something and/or posted something, and thought, 'OK, I just gave a nickel, I just gave a nickel,' and giving a nickel each time can really make a difference down the road."
This post is part of a series produced by The Huffington Post highlighting the contributions of Go-Givers -- people who are looking beyond a "Go-Getter" approach to success and redefining success to include the importance of giving back. To nominate a Go-Giver of the Week, email gogiver@huffingtonpost.com.