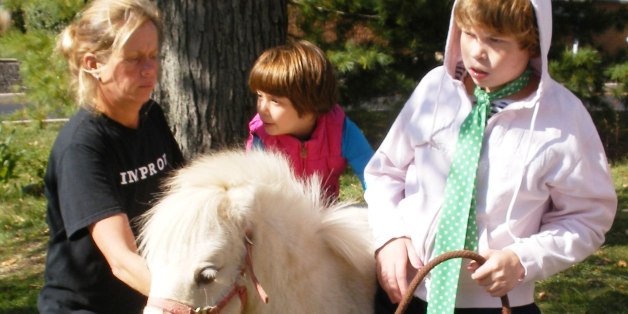 A miniature horse may not seem like a conventional service animal, but that's the role Ellie served for a 13-year-old Ohio girl who uses a wheelchair.
At least, that's what Chloe Anderson's mother says in a lawsuit filed against the city of Blue Ash. The complaint, filed Feb. 18 by Ingrid Anderson and advocacy group Housing Opportunities Made Equal (HOME), alleges the city violated the Americans with Disabilities Act when it forced the family to remove a mini horse from the property last year. It says the city was informed Ellie was a service animal.
The document, obtained by WLWT, says a medical professional recommended the animal as a treatment method for Chloe, who suffers from a number of ailments that, combined, make it impossible for her to live without constant care or to walk without assistance.
According to the complaint, the family relied on Ellie, a service-trained miniature horse, to help Chloe walk around the yard by herself. The girl was able to use the horse for balance and support, and the animal was trained to respond to hand gestures and voice commands that Chloe could easily communicate. If Chloe fell down, Ellie knew to stand still and allow the girl to use her for support to stand up on her own.
The city, which had previously determined the horse was not an official service animal, deemed Ellie livestock and forced the Andersons to move her from the property in late 2013. Since the horse's removal, Chloe has "reverted back to a more reserved, sedentary lifestyle," the complaint notes.
"While the City has been sympathetically working with Ms. Anderson, her daughter, and the miniature horse for over four years, numerous complaints form neighbors and increasing health concerns have been brought to the City's attention," a city representative said in a statement to The Huffington Post.
The city says Ellie was not the only animal on the property; it reported a second miniature horse, an alpaca, pigs, roosters, rabbits and more than six dogs on the land. According to the statement obtained by HuffPost, Blue Ash requested the horses, alpaca and pigs be removed in order to comply with city ordinances.
Anderson, on the other hand, told Cincinnati.com the miniature horse was the only animal she had on her property. She says the alpaca was only present for a Fourth of July party.
Both parties have a court hearing Friday.
Image Credit: Housing Opportunities Made Equal.