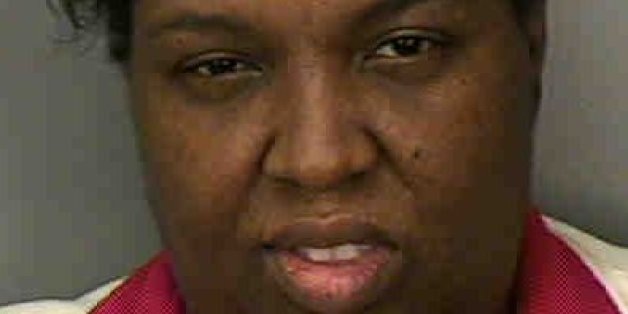 A Florida woman accused of skipping out on an $18.46 restaurant bill allegedly gave the cashier two options: Give her a free meal and go to heaven, or charge the credit card and go straight to hell.
The offer of biblical proportions happened on Jan. 14. Ruthena Lewis, 44, took her mother, 78-year-old Willie Lewis, to eat at the A&G restaurant in Winter Haven, Fla.
When it came time to pay, Lewis took her mom to the car and re-entered the restaurant to pay with a credit card. But the card was was declined. A&G cashier Crystal Henson told police that Lewis held the cancel button down when the charge was being processed.
According to the police report, Lewis then gave Henson a choice: If the meal was free, Henson would go to heaven. If she insisted on running the card through, "She would go to hell."
Lewis left the restaurant, leaving the business card of her church bishop, Joseph Lewis (no relation). She told restaurant employees to call him and he would pay the bill.
Restaurant employees called Winter Haven police instead. Lewis and her mother were arrested a short time later, NewsChief.com reported. They were charged with misdemeanors and later released.
Willie Lewis had $80 in her possession when she was arrested, according to the police report.
Bishop Lewis later dropped in to pay the bill, plus a tip. In exchange, he asked restaurant owner George Paragios not to press charges against the women. Paragios reportedly agreed, but then changed his mind when he spoke to police.
Paragios is getting support from his employees.
"It's not like we didn't ask the lady to pay," waitress Natasha Anthony told BayNews9.com. "We followed her out the door to get her to pay and she wouldn't pay. So the law is the law. The law took her to jail, we didn't."
Meanwhile, the members of Lewis' church are trying to get the restaurant to drop the charges by protesting outside of the restaurant, Raw Story reported.
The women are due in court March 4, but authorities say they are working to resolve the case before that.
BEFORE YOU GO
PHOTO GALLERY
Outrageous Receipts (EXPLICIT LANGUAGE)