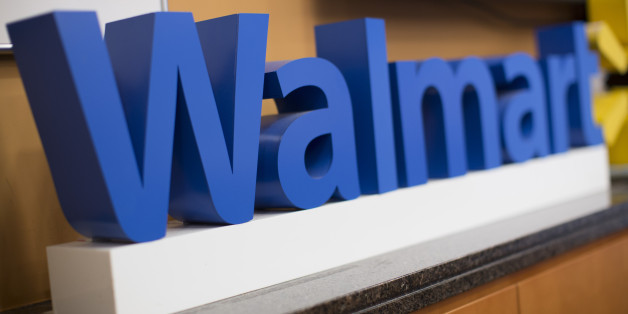 Walmart currently does not support raising the federal minimum wage. However, considering the company's lackluster performance over the past few months, perhaps it's time to take a stand.
On Thursday morning, the retailing giant announced a a 21 percent drop in profits in the last three months of the year, which covers the crucial holiday season. Some of the drop had to do with weather -- more than 200 Walmart stores had to close some time over the last few months because of winter storms. However, much of the decline was the result of a pull back by shoppers pinched by recent federal benefits cuts, officials said on an earnings call Thursday.
U.S. same store sales dropped 0.4 percent last quarter U.S. CEO Bill Simon said on the call. If the government hadn't cut food stamp benefits in November, "we believe the quarter would have been flat," he said.
In other words, the food stamp cuts were so devastating, customers were too poor to shop at Walmart.
Thursday's earnings call is one of several times Walmart's blamed government benefit cuts for mediocre revenue in recent months.
It's no surprise that a reduction in benefits for the lowest-income Americans would hit Walmart's bottom line. Eighteen percent of food stamp dollars are spent at Walmart stores, according to a Wall Street Journal report from October. The company also caters to the most cost-conscious consumers.
"Our customers rely on us to deliver low prices on the items they want most," Simon said on the call.
Which is all the more reason why a minimum wage hike would be good for Walmart. Sure, they'd have to pay their workers more, but so would everyone else. And the benefits of a minimum wage boost would go largely to the types of Americans that shop at Walmart. A report released Tuesday by the Congressional Budget Office found that raising the minimum wage to $10.10 an hour would lift 900,000 Americans out of poverty and give 16.5 million low-income Americans a raise.
The chart below from the CBO shows that a $10.10 minimum wage would boost the incomes of poor Americans.

And when pinched Americans get money, they're likely to spend it almost immediately at places like Walmart. "Walmart caters to workers on a budget and they can expect that if those workers get an increase, they will spend the money in their stores," Catherine Ruetschlin, a policy analyst at Demos, told HuffPost in September. "These low-wage workers are the real job creators in the economy; they're the people that go out and spend."
Walmart spokesman David Tovar told HuffPost Wednesday that "It's difficult to gauge" the impact of a minimum wage hike on Walmart's bottom line.
Tovar said that less than 1 percent of Walmart's workforce actually get paid the state or federal minimum wage.
The company opposed a D.C. City Council proposal last year -- essentially targeting Walmart -- that would have raised the minimum wage for workers at big box retailers to $12.50 an hour.
Though the retail giant is staying mum for now on a federal minimum wage hike, in 2005 Walmart executives acknowledged that raising the wage floor would boost the retailer.
"The U.S. minimum wage of $5.15 an hour has not been raised in nearly a decade, and we believe it is out of date with the times," then CEO H. Lee Scott Jr. said in a 2005, according to the Washington Post. "Our customers simply don't have the money to buy basic necessities between paychecks."