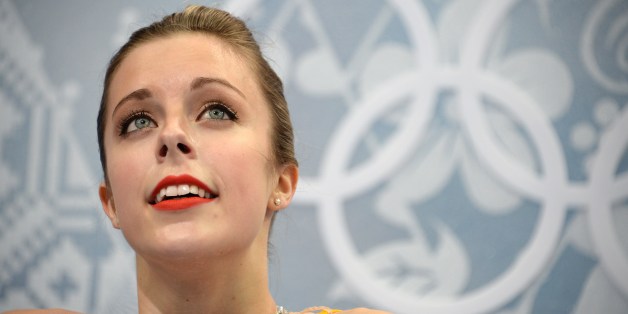 Fresh off her seventh-place finish in Sochi, U.S. Olympic figure skater Ashley Wagner had harsh words for the sport's judging system that allowed Russian teen Adelina Sotnikova to win a surprise gold medal in women's figure skating over a number of medal favorites.
Wagner said Thursday she feels "gypped" after her two relatively clean performances were topped by Sotnikova's teammate, Yulia Lipnitskaia, who fell on a jump in both the short program and free skate. Both Russians benefited from skating in their home country, Wagner contended, according to Yahoo! Sports.
"I am speechless," Wagner said of the women's figure skating result, Yahoo! reports. "The crowd was very supportive of the Russians, so to be a Russian figure skater must have been absolutely incredible to get out there … period."
Wagner did not fall in either program, but received a negative grade of execution on her most difficult jump combination -- a triple flip-triple toe -- in both programs and did not score as high of component scores -- for performance, choreography, interpretation and other factors -- as the other top metal contenders.
The American skater went on to urge that the sport's anonymous judging system be eliminated to encourage more accountability and bring in more fans to the sport.
"This sport needs fans and needs people who want to watch it," she added, according to the Los Angeles Times. "People do not want to watch a sport where they see someone skate lights out and they can't depend on that person to be the one who pulls through. People need to be held accountable."
Wagner isn't the only one questioning the result of the marquee event of the Sochi games. A Change.org petition calling for an open investigation into the competition's results has been signed over 1.7 million times as of Friday afternoon. A Change.org spokeswoman said it is the largest sports-related or Olympics-related petition the site has ever hosted.
(Read the New York Times' analysis of how Sotnikova beat Kim.)
Some of the sport's biggest names have also lashed out against the result. 2002 Olympic ice dancing champion Gwendal Peizerat told USA Today's Christine Brennan it was "not fair" to see Sotnikova beat silver medalist Yuna Kim and bronze medalist Carolina Kostner. Four-time world champion Kurt Browning told the New York Times he was "shocked" and "still trying to figure" out the results.
Curious additions to Thursday's judging panel have also contributed to the scrutiny. Among the judges in the women's free skate was the Ukraine's Yuri Balkov, who was banned from the sport for a year after he was caught on tape trying to fix the results of the 1998 Olympic ice dancing competition. Another judge, Alla Shekhovtseva of Russia, is the wife of Valentin Pissev, the head of the Russian figure skating federation, Fox Sports noted.
An IOC spokesman on Friday downplayed the controversy and told USA Today no official complaint about the women's figure skating event had been made.
ALSO ON HUFFPOST:
PHOTO GALLERY
BEFORE YOU GO
PHOTOS: Ladies Free Skating
PHOTO GALLERY
PHOTOS: Ladies Free Skating