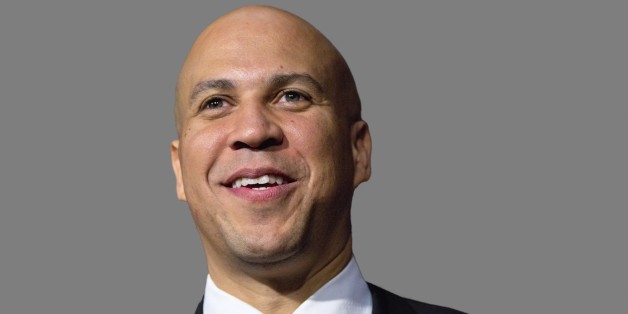 Cory Booker won some friends in Washington on Friday.
After some prodding, the New Jersey Democrat tweeted his support for making D.C. the 51st state.
Why not today. I support it. MT @51stDC: One of these days we'll get Cory Booker to tweet his thoughts on #DCStatehood

— Cory Booker (@CoryBooker) February 21, 2014
D.C. "shadow senator" Paul Strauss (D) tweeted his thanks to the New Jersey senator, who was born in Washington. Strauss describes himself as "D.C.'s elected non-voting U.S. senator"; some characterize the position as akin to an elected lobbyist.
Strauss told HuffPost "we always knew it would be when, not if" Booker came out in favor of this long-standing cause.
"It's not like we got the ranking Republican from Oklahoma to turn around," he said, referring to Jim Inhofe, who, with other members of the GOP, has traditionally been opposed to statehood for the District.
But Booker isn't the only one.
A recent visit to Hollywood, where Strauss talked about statehood with stars like Mario Van Peebles, Evan Handler, Kate Walsh, Tim Daly and Omar Epps, brought new supporters into the fold. Van Peebles recorded a statehood PSA that is in its final stages of production, Strauss says, as part of a campaign that's going to be called "51 Stars."
"It is Mario Van Peebles talking to me about how he supports D.C. statehood," Strauss said. "He tells viewers that 'You should call your senator and tell him to support the D.C. statehood bill, S.132.'"
The Senate's statehood bill, "The New Columbia Admissions Act," was introduced last year by Homeland Security and Governmental Affairs Committee chairman Tom Carper (D-Del.) (powerful co-sponsors include Senate Majority Leader Harry Reid (D-Nev.).
This is the first time in two decades that statehood bills have been introduced in both the House and the Senate. And with some Republicans showing support for Puerto Rico statehood, Strauss says that statehood seems like "less of a pipe dream" than it used to.
"We're optimistic," he said, "that we can make more progress than we have for a while."

BEFORE YOU GO
PHOTO GALLERY
Paul Strauss Brings D.C. Statehood To Hollywood