A stray cat was stuck on top of a pole for days, but who's the real pussy here?
The feline known as the "McKellar Kitty" is safely on solid ground, but the firefighters, police and hydro workers of Peterborough, Ontario refused to rescue the animal for two days, according to the Toronto Sun.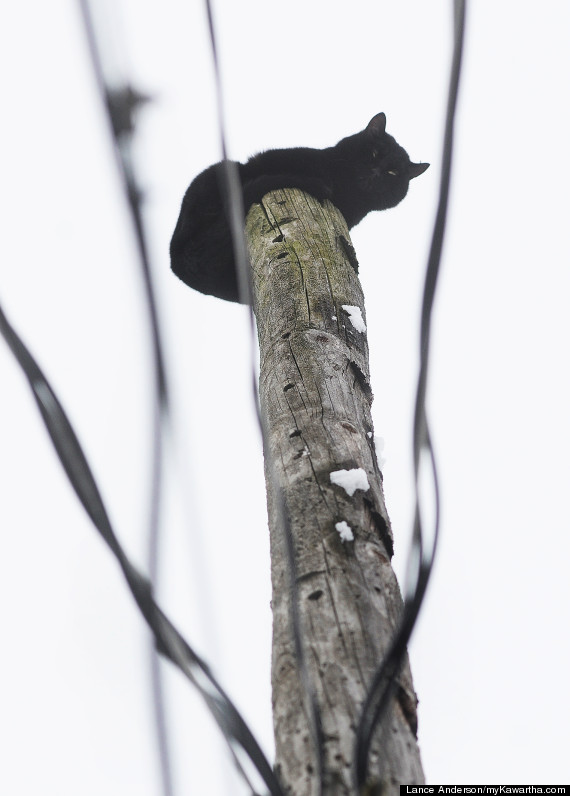 CLICK HERE to see more photos of the stuck kitty at MyKawartha.com
The cat was first spotted atop the hydro pole, owned by Peterborough Utilities, on Tuesday. When officials failed to rescue the cat, members of the surrounding community weren't the only ones who were purrrturbed. The hashtag #SaveMcKellarKitty (named after the street where the pole was located) popped up on Twitter, as did the fake (we think) Twitter account @PtboPoleCat.
Just hangin' out on top of a pole. What's all the fuss about?

— Ptbo Pole Cat (@PtboPoleCat) February 20, 2014
My Kawartha reported that the utility company issued a statement explaining why they would not rescue the cat:
Our past practice is to allow the animal to come down on its own. The animal may be cold and tired, but also frightened. Having an employee attempt to rescue the animal may cause it to panic and could therefore place both the animal and the employee at risk.
Firefighters and police were similarly unwilling to help. Firefighters said it was too hazardous because of the live wires surrounding the cat.
The police said they lacked the necessary training, and besides, "Cats are smart animals. They come down on their own at some point," Const. Keith Calderwood said, according to The Peterborough Examiner.
That cat didn't come down on its own, though. A regular ol' civilian rescued the critter Thursday afternoon. Twitter user Jeannine Taylor indicated that a man volunteered his tree-trimming truck for the rescue effort, and a veterinarian was onsite in case of a mishap.
#SAVEMCKELLARKITTY SAVED! My mom says guy donated tree trimming truck, vet was on site, cat all okay!

— Jeannine Taylor (@wiredwoman) February 20, 2014
CORRECTION: A previous version of this story incorrectly referred to the town as "St. Peterborough." The town is Peterborough.