Hundreds of people flocked to Stage 48 in New York's Hell's Kitchen neighborhood Feb. 19 for the sixth season premiere of "RuPaul's Drag Race."
Presented by Logo TV and Brandon Voss, the party consisted of show-stopping performances from all 14 of this season's queens, who more than proved that each and every one of them will be BRINGING IT over the next several months. Just watch this video of Bianca Del Rio making a dress and wearing it in under three minutes on stage -- like, come on!
Before the night kicked off, we had the chance to speak to a few of the queens about how "Drag Race" is beginning to change their life and their own perceptions about drag culture, particularly the significance it holds politically. They certainly convinced us that this season is shaping up to be the most sickening thing to hit televisions in years.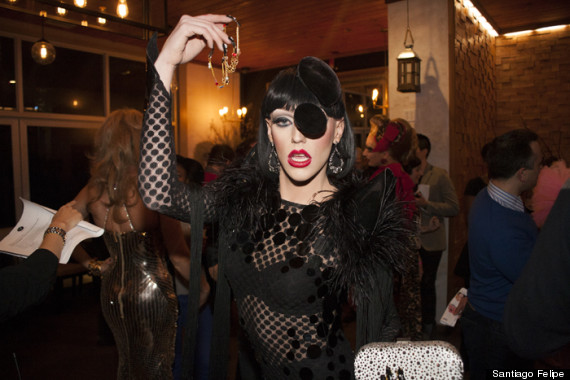 Laganja Estranja, drag daughter of fifth season favorite Alyssa Edwards, talked to us about following in the footsteps of one of the show's favorite queens from all five seasons.
"Being Alyssa's daughter made me feel like I had HUGE shoes to fill," Laganja Estranja told The Huffington Post. "I mean have you seen those back rolls, honey? She is such a star, such a celebrity, a breakout star of all the seasons. So going into this competition I felt very nervous to live up to her big personality. But at the end of the day I've know Justin for seven years now, I've worked as his dance studio –- I've know him as a him! He's a mentor, he's a friend, he's a brother -– we fight like brothers and we love like sisters."
The articulate, bubbly and charming BenDeLaCreme, longtime friend of season five winner Jinkx Monsoon, shared her thoughts about how politically-charged drag can be and the socially constructed nature of the gender binary.
"[Drag is] an act of gender transgression and totally acting against what we as a society have decided that gender means and what men should be doing and what women should be doing," Bendelacreme said. "It's funny to me that people are always sort of coming up with the conclusion that like, 'Oh this man can look like a beautiful woman so he must be really great at magic or something' instead of coming to the conclusion that gender is a farce. If I can be a super beautiful woman –- then we made it up. We invented it."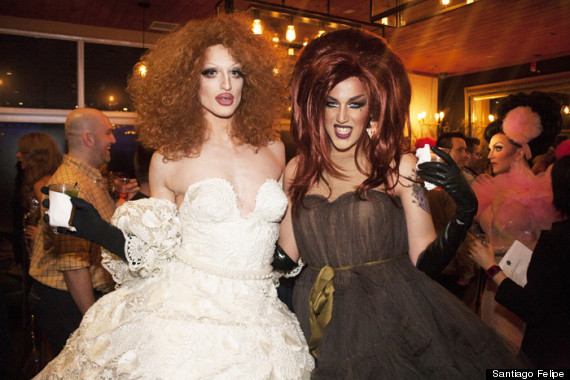 "Drag is a full time job now so since [the cast list has] been released," Adore Delano told The Huffington Post. "I mean, the booking fees went up a little bit. I'm hoping they go up a little more but I got a lot of work and I'm hopefully going to be working on an album. A lot of new projects coming my way. I'm really excited to just travel and meet the fans of the show."
Milk, who comes from the legacy of the nightlife legend Susanne Bartsch, discussed the influence of "Drag Race" on her drag collective The Dairy Queens.
"The Dairy Queens have always been doing their own thing –- all of us have our own opinions about the way things should be, how we should look from one night to the next. I think ["Drag Race" has] put the dairy queens in the spotlight much more than they were and I think it's so amazing to have a group of friends that do such different things than I guess typical drag queens. It's so silly, it's so special and they're so supportive. They've been such steady rocks throughout this whole, crazy adventure."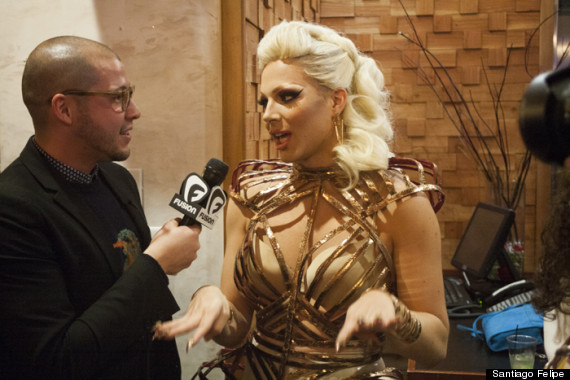 April Carrion is this season's queen representing Puerto Rico. "I think everybody expects a Puerto Rican queen to be something really different," April Carrion told The Huffington Post. "The public expects that Puerto Rican to be fierce and I need to meet the standard that all the other queens have made. I need to mark it as my own and make own statement… I need to make everyone see April and love her style and uniqueness… I love being androgynous and really questioning gender – not being a woman or a man. Just something in-between, I think that really identifies with me."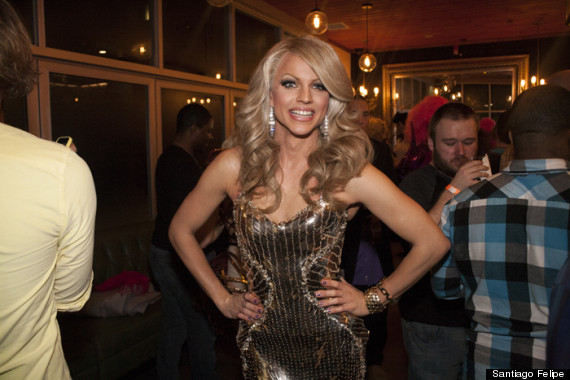 Finally, the charming Courtney Act of "Australian Idol" fame talked with us about the politicization of drag -- or just what constitutes a political statement. Courtney Act recently released a song in support of disenfranchised members of the Russian population.
"I think whenever anybody is who they are it's a political statement," Courtney Act said. "A lot of people will see adversity and try to push against it -- it shouldn't be that way. You're just pushing against somebody who is saying the opposite to you so it's just like a shoving competition. I think the way to bring about change is for each individual to be themselves and ignore as much as they can the idea that society and other people say they should be and just be who they feel they are inside. There's a difference between thinking and feeling – to me, thinking is about intellectualizing what the outside world says and feeling is about something from the inside and living from the inside out. I think that whenever people feel what is right, and they do that then only good things can happen.
Be sure to tune into Logo on Monday, Feb. 24 at 9 p.m. EST for the "RuPaul's Drag Race" premiere.
All photos by Santiago Felipe.