At just 8 years old, Leila Conlan Adane has already built a pretty impressive rock collection.
The adorable rock lover brought loads of enthusiasm to HuffPost Live, where she joined host Josh Zepps and planetary scientist Jim Bell, who shared some of his advanced geological knowledge.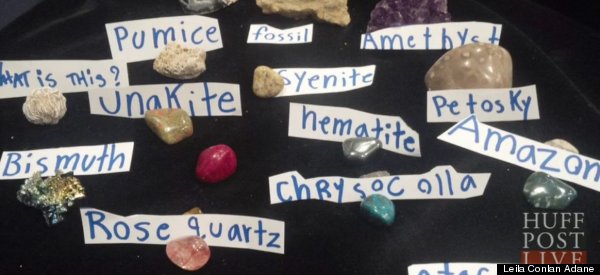 Eight-year-old Leila Conlan Adane has quite the impressive rock collection.
Leila got the chance to ask Bell some important questions about rocks, like why some of them are so expensive.
"Some of the rocks are valuable, some of them are not. Why is that? Is it just because they're pretty?" Leila asked.
Bell offered a thoughtful response explaining that there are many types of rocks in the world, and the ones that are most rare and most beautiful are valued above the others. That answer made complete sense to Leila, and she was happy to hear it.
"Oh! Never thought of that," she said with a smile.
See the full HuffPost Live segment with rock lover Leila in the video below.
This clip is part of HuffPost Live's "Tell Me Why" series, featuring young enthusiasts discussing the subjects they're passionate about -- from horror movies to string theory -- with experts.
BEFORE YOU GO
PHOTO GALLERY
Cute Kid Notes