The head of the Brazilian tourism board is slamming Adidas for marketing a pair of tee shirts that play off stereotypes of oversexed Brazilians.
In advance of the World Cup, Adidas has released a pair of tee shirts inspired by Brazil's reputation for sexiness. One shirt features an image of heart that appears to double as a woman's behind with a thong, while another depicts a thin-waisted woman with a giant rear against a Rio de Janeiro backdrop and the words "Looking to Score."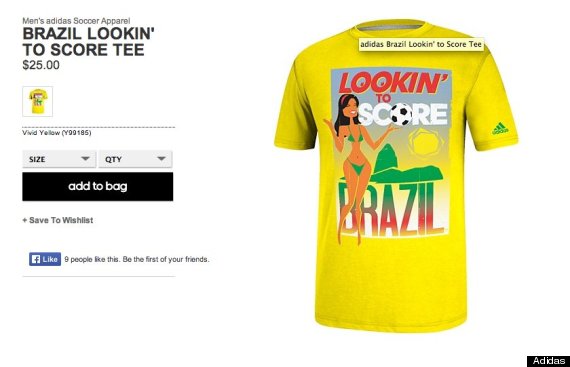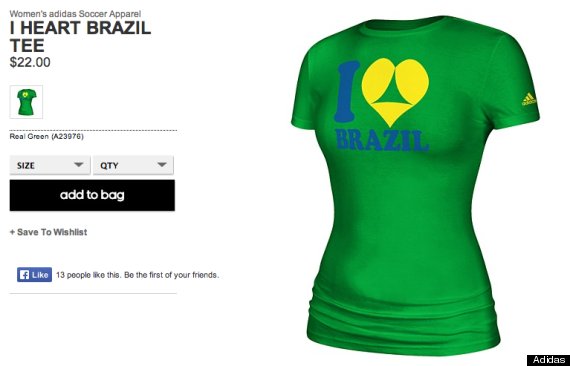 The "Looking to Score" message presumably refers to both soccer goals and having sex with Brazilian women.
The head of the Brazilian Tourism Board Flávio Dino blasted the shirts in comments to the local press, saying they would encourage illegal activity.
"We don't accept that the World Cup be used for illegal practices, like so-called sexual tourism," Dino told Brazilian news agency O Globo. "We ask that Adidas put a stop to the sale of these products… Brazil has harsh laws to deal with sexual abuse and the police will act on these cases in the national territory."
Adidas did not immediately return a request for comment.
We first heard about the controversy from blogger Rio Gringa, who tweeted:
Adidas is selling Brazil tees that promote sexual stereotypes. Gross, but unsurprising. http://t.co/mLW0wlJVfh http://t.co/cGibjjDaQV

— RioGringa (@Riogringa) February 24, 2014