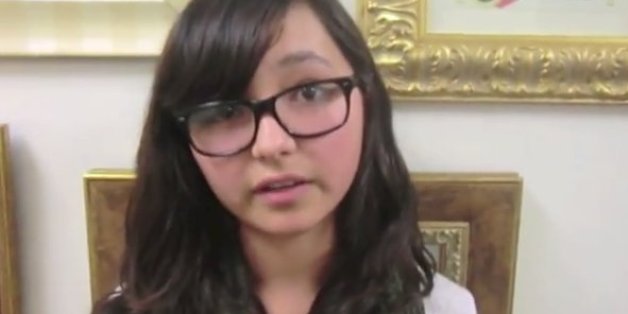 An eighth-grade student who was kicked out of her public school district last month is asking officials to let her attend school again.
Maia Wu, who was the student body present and 4.0 student at Monterey Highlands Elementary School in California, says she and her siblings were kicked out of school several weeks ago when Alhambra Unified School District revoked their inter-district transfer, according to Education Week. Although Wu and her siblings, aged 11 and 8, live outside of district boundaries, the inter-district transfer previously allowed them to go to Alhambra schools.
However, Wu says that they were not kicked out due to any behavior of their own. Instead, she says she believes she and her siblings are being punished because the district took issue with the behavior of their mother.
In a YouTube video posted in late January, Wu explains that she received a letter from the district revoking her inter-district transfer. The letter allegedly listed grievances the district had with her mother, who has previously spoken out against school policies.
"Essentially, the letter gave four points as to why we had to leave by Jan. 31 -- in the middle of the school year. Not a single point had anything to do with me, my sister or brother. They were retaliating against my mother for standing up for her First Amendment rights," Wu says in the video, which, as of Monday afternoon, has been viewed more than 19,000 times.
Last week, Wu went in front of the school board to ask officials to let her and her siblings return to school.
"However, I would like you all be aware that what has been done here is completely unfair to me and my family, and all I am asking for is that I can attend my school again and that we just finish out our school year," the 13-year-old said before the board, according to video of the event.
District superintendent Laura Tellez-Gagliano responded to the situation earlier this month in a press release obtained by the Pasadena Star News.
"[The school board] denies that it retaliated or that the transfer permits were inappropriately revoked," Tellez-Gagliano said. "The District firmly believes that this decision is in the best interests of all involved and are confident that the students will continue to receive an excellent education in their home district."
In her latest YouTube video, posted Feb. 18, Wu says she is going to continue to fight for her right to attend district schools.
"We're definitely coming back, that's for sure. But we're coming back with people who have similar stories, and they're going to be using their voices, to give their perspective on things. They think we're going to go away, but we're not. They think that we're scared -- but in reality, they are," the teen said.
A Change.org petition asking for Wu and her siblings to be allowed back at school has more than 870 signatures.
Watch Maia Wu speak in the YouTube video below:

BEFORE YOU GO
PHOTO GALLERY
Teacher Controversies