Planting Peace hosted an event over the weekend at its now-famous Equality House in Topeka, Kan. that sought to bring visibility to the plight of the lesbian, gay, bisexual and transgender (LGBT) community living in Russia: the "Gay Olympics."
The event was more or less a field day with queer-themed events, such as a hurdle race with the hurdles bearing labels such as "bigotry" "homophobia" and "inequality." Funds raised for the event went to Spectrum Human Rights Alliance, a non-profit organization that helps LGBT Russians flee persecution and seek asylum.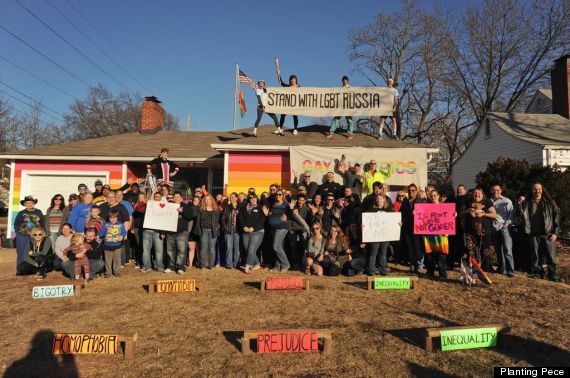 The Equality House where the Gay Olympics took place is an initiative spearheaded by Planting Peace that seeks to challenge the radical and homophobic rhetoric of the Westboro Baptist Church. In the past, the house, which first received its rainbow paint job in March 2013, has played host to a child's lemonade stand for peace, a gay wedding and a drag show -- all essentially on the anti-gay church's front lawn.
"Although the event itself was fun and silly the cause is a very serious one," Planting Peace Founder Aaron Jackson told The Huffington Post. "What is happening to our LGBT friends in Russia is nothing short of an alarming crisis. The international community must continue to be vocal about our support for LGBT Russians."
For more information about Planting Peace or to donate to the cause head here and check out the slideshow below for images from the "Gay Olympics."
BEFORE YOU GO
PHOTO GALLERY
Gay Olympics