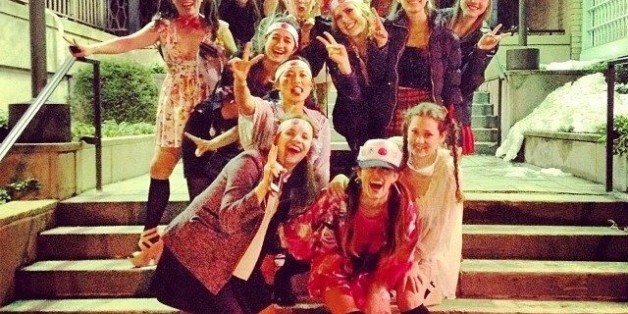 A sorority at Columbia University apologized Tuesday after receiving backlash for dressing as racial stereotypes over the weekend at a "Beer Olympics" mixer.
Photos of Kappa Alpha Theta members at Columbia posted to various social media outlets showed women portraying a Mexican team with sombreros, fake mustaches and tequila bottles, as well as a Japanese team in schoolgirl outfits and hachimaki, holding up peace signs.
"We were wrong, and we are truly sorry for our actions surrounding the weekend's events," the sorority chapter said in a statement.
The sorority went on to declare they would not "make justifications or excuses" for the event.
The apology came after the group was criticized by campus groups and Interim Dean of Students Terry Martinez.
The Chicano Caucus, one of the groups to criticize the sorority mixer, received its own backlash after photos from an event the group held started circulating. The Chicano Caucus had offered attendees to a Glass House Rocks eventon Feb. 14 the chance to pose in cutouts featuring a sombrero and a built-in large mustache.
"We would like to apologize to anyone we offended with the images of the face cut-outs," the Chicano Caucus said in its own statement. "It is regrettable that only one of the many aspects we sought to share was singled out, neglecting the overarching theme. However, our event at Glass House Rocks was far from a trivial representation of our Mexican heritage; it was a means through which we paid tribute to one of the many cultures within Mexico, combating the very issue of cultural unawareness. We attempted to address the stereotypes imposed upon us by showcasing their underlying truths: the places and peoples they actually pertain to."
As Bwog chronicled, statements on the event also came from the Inter-Greek Council and the president of the Panhellenic Association.
The entire apology from the Epsilon Upsilon Chapter of Kappa Alpha Theta is pasted below:
We – wrongfully and regretfully – used stereotypes a few days ago in a manner that we now recognize was insensitive and unacceptable. We were wrong, and we are truly sorry for our actions surrounding the weekend's events.

Our organization prides itself on being a group of "leading women." Our actions were not the actions of leaders. We embarrassed ourselves, our families and our university.

We will do many things as a result of our mistakes. First and foremost, we'll learn from them. We are committed – as an organization and as individuals – to educating ourselves about cultural differences and the harmful effects of furthering stereotypes. We'll start by reaching out to the leaders of several campus organizations in hopes of partnering together to advance multicultural awareness within our community.

Secondly, we will not attempt to make justifications or excuses for what we've done. We've made these mistakes, and we will not make a subsequent one by failing to own up to our wrongdoings.

Finally, we will take as many steps possible to make amends with the populations we have hurt most. That starts with this apology. However, we know actions speak louder than a written apology. And we can only hope that our commitment to advancing multicultural awareness and owning up to what we've done can – over time – prove our sincerity. Only then, could we ask for forgiveness.

Sincerely,
The Epsilon Upsilon Chapter of Kappa Alpha Theta