Uganda's anti-gay laws have received harsh criticism from plenty of Americans. But comedian Eugene Mirman wants President Obama to stop beating around the bush and tell the country in no uncertain terms what he thinks of its policies.
And thanks to We the People, the White House website's civilian petition system, he attempted to pressure Obama to do just that. On Tuesday, Mirman started a petition encouraging Obama to "tell Uganda to go fuck themselves." Within hours, the petition was removed because "it is in violation of our Terms of Participation."
Here's what the petition looked like: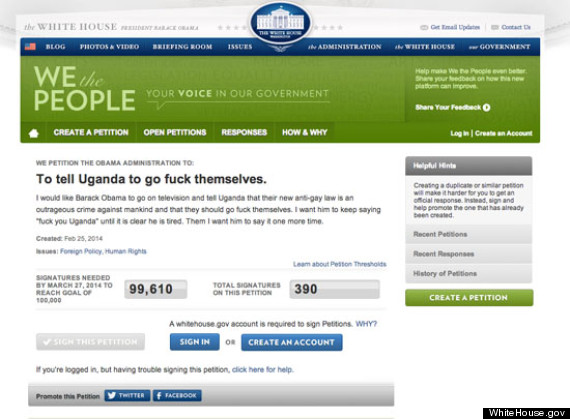 "I would like Barack Obama to go on television and tell Uganda that their new anti-gay law is an outrageous crime against mankind and that they should go fuck themselves. I want him to keep saying "fuck you Uganda" until it is clear he is tired. Them I want him to say it one more time."
Ever since the White House instituted a petition system on its website that allows citizens to directly bring attention to pet issues, some less-than-serious topics have received White House attention. Just last month, the White House was forced to address a call to deport Justin Bieber to Canada, which was the site's second-most popular petition of all time.
Mirman, a stand-up comedian best known for voicing Gene on the Fox comedy "Bob's Burgers" and throwing his own annual comedy festival in Brooklyn, was surprised that the petition was approved in the first place.
Uganda's new anti-gay laws, which would institute extremely harsh punishments on individuals who take part in homosexual acts, have been widely slammed across the world.