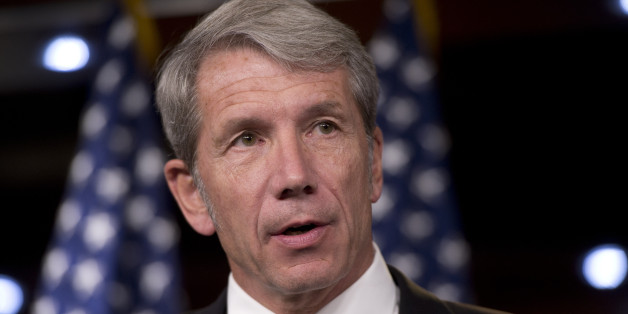 WASHINGTON -- On Wednesday, House Democrats will undertake a procedural maneuver known as a discharge petition in hopes of forcing a vote on their minimum wage bill. As House Minority Whip Steny Hoyer (D-Md.) explained last week, the Democratic minority will probably need to pull in at least 20 Republicans in order to get enough signatures for the petition to work.
But before they start counting heads across the aisle, Democratic leaders will need to figure out where a few of their own members stand.
As of Tuesday morning, there were 187 voting Democratic co-sponsors on the proposed Fair Minimum Wage Act, which was introduced by Rep. George Miller (D-Calif.) last March. Although that's an extremely broad show of support, there were still a dozen voting members of the caucus who hadn't signed on.
HuffPost reached out to the 12 House Democrats who weren't yet co-sponsors. A spokesperson for Rep. Dina Titus (D-Nev.) said the congresswoman had just joined as a co-sponsor on Tuesday and would support the party's discharge petition. A spokesperson for Rep. Brad Schneider (D-Ill.) said the congressman planned to join as a co-sponsor and also sign the petition. And a spokesperson for Rep. Ed Perlmutter (D-Colo.) said the congressman at least intended to sign the petition.
As of early Tuesday evening, HuffPost hasn't heard back from the offices of the other nine voting Democratic members who aren't co-sponsors of the minimum wage bill: Reps. John Barrow (Ga.), Ami Bera (Calif.), Henry Cuellar (Texas), Daniel Lipinski (Ill.), Jim Matheson (Utah), Mike McIntyre (N.C.), Scott Peters (Calif.), Collin Peterson (Minn.) and Kurt Schrader (Ore.).
Seven of those nine are members of the Blue Dog Coalition of moderate or conservative House Democrats. Five of them -- Barrow, Matheson, McIntyre, Peterson and Schrader -- joined Republicans in voting down the minimum wage hike when Democrats tried to tack it onto a jobs training bill last year.
A divisive topic on Capitol Hill, the idea of raising the minimum wage has wider support outside the Beltway, with about two-thirds of the public telling pollsters that a minimum wage hike is a good idea. That support tends to be less among Republicans but still significant.
A recent HuffPost/YouGov poll found that 62 percent of Americans would like to see the minimum wage raised, including 85 percent of Democrats, 60 percent of independents and 31 percent of Republicans.
The Democratic bills in the House and Senate would raise the federal minimum wage from $7.25 to $10.10 per hour and peg it to inflation, so that it adjusts each year. Backed by President Barack Obama, the bills would also raise the lower minimum wage for tipped workers, like restaurant servers, to 70 percent of the regular minimum wage.
The legislation still has a long way to go. House Republicans have so far declined to bring the measure to a vote -- hence the Democrats' planned maneuver -- and it isn't clear whether Senate Democrats would have the requisite 60 votes to overcome a filibuster. Many Republicans have opposed the measure by arguing that it would kill jobs.
BEFORE YOU GO
PHOTO GALLERY
8 States With The Highest Minimum Wage