Cancer can be one of the most devastating diagnoses, and it takes a special kind of courage to channel grief into something meaningful.
And that's exactly the case for the cancer patients highlighted in the stories below. Read about one young woman who rocked a "chemo mohawk," and another who turned her double mastectomy into a canvas.
Though some of the following stories feature people who left us too soon, they all inspire us in their own unique ways.

These people ride to chemotherapy like James Bond.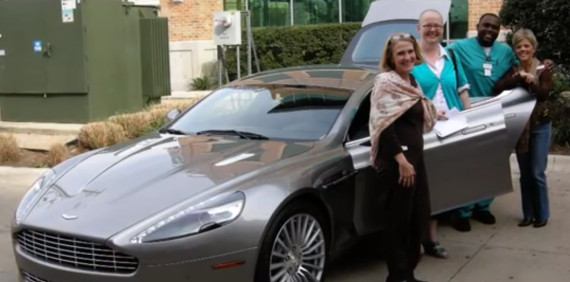 (YouTube)
Your Ride Is Here is a Texas-based organization that matches cancer patients who need rides to and from the hospital with volunteers willing to drive. But their premium program Dream Ride, lets patients get from Point A to Point B in style. Local auto dealers -- Aston Martin, Bentley, Lotus and others -- help make it a reality.
This woman turned her double mastectomy into a gorgeously elaborate work of art.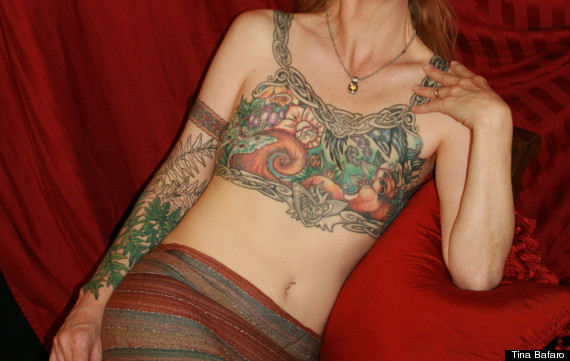 It took Inga Duncan Thornell, a Seattle life coach, one appointment per month with tattoo artist Tina Bafaro for over two and a half years to complete the piece. Since then, it's spread like wildfire around the Internet.
This guy saw his hair loss as a great opportunity.
Reddit user Caldorbeb posted this image back in November with the caption, "Even with cancer one can pull off a great costume!"
This guy, too.
Reddit user AsaMartin says he made this post two weeks after his leg was amputated due to bone cancer.
This little girl in her "kick cancer's ass" pose.
Reddit user Dlex31 posted this picture of his neighbor's daughter, Cami, who recently underwent a bone marrow transplant.
And this makeup-savvy girl showed you can be beautiful when you have no hair.

(YouTube)
Talia Castellano gained Internet and real-world fame through her YouTube makeup tutorial series and chipper attitude, despite battling two forms of aggressive cancer. In one video, she explained how makeup gave her confidence.
"I love ... using it as my wig and having so much self-confidence to go out to the grocery store without a [real] wig."
This woman found a simple way to keep doing things, even though she felt exhausted.
Reddit user LegitimateSnape posted this snapshot of her New Orleanian aunt, with the caption, "You can't keep this Louisiana girl out of the kitchen!"
This kid owns the best T-shirt ever.
Looks like the eyebrows grew back, but we think it's still adorable.
This girl got a rainbow mohawk before her hair fell out.
Her self-dubbed "chemo mohawk" is glorious.
And this lady got a henna crown inked after.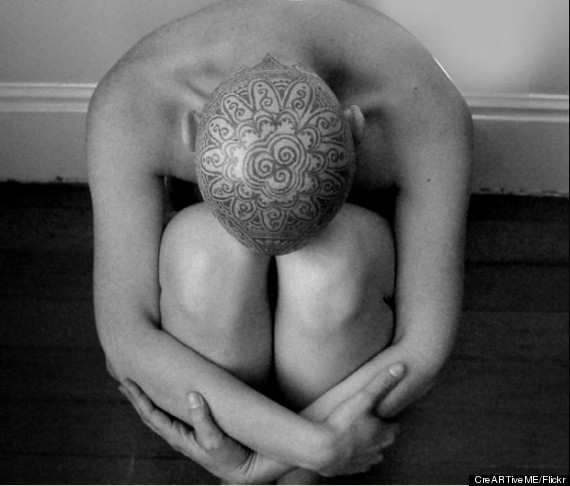 Some patients are opting to have their heads temporarily tattooed with intricate designs using the plant-based dye henna, which fades after a couple weeks.
This girl asked the world for pizza, and the world delivered.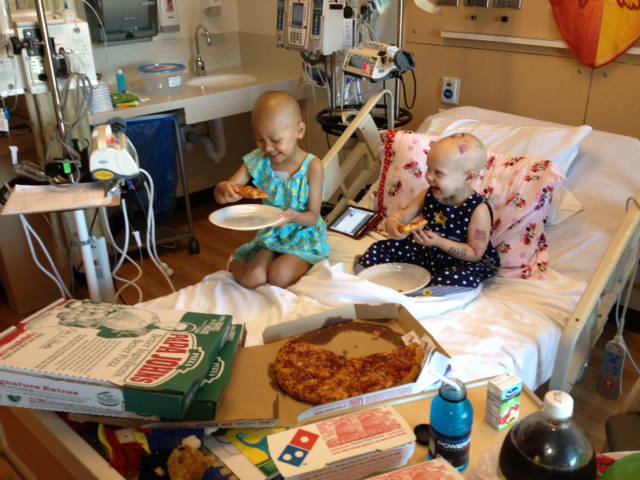 Last summer, at the request of her two-year-old daughter Hazel, Laura Hammersley used tape to form the words "Send Pizza Room 4112" on the window of the girl's hospital room. After a Reddit user posted this picture to the site, so many pizza deliveries started pouring in, the hospital had to ask all the do-gooders to (please) stop.
This guy's friends threw him a party in his hospital room.
First day of Chemo complete ✔️ @iansupraman @tinaashour @MayorgaMateo @alexknight__ @actuallyamjak #SupraStrong pic.twitter.com/DdeihcRGay

— Bobby Knapp (@bknapp757) February 12, 2014
These kids made a One Direction music video in the hospital.
With help from their parents and the staff at the Johns Hopkins Kimmel Cancer Center's Division of Pediatric Oncology.
This woman demanded a second opinion and took part in Phase 1 drug trials that prolonged her life.
Ellie Jeffrey, former reporter for Britain's ITN and Sky News networks, kept a positive outlook on her blog "Written Off," (tagline: "making the big C smaller") despite being diagnosed with breast cancer in her 20s and given just months to live. After determinedly contacting specialists to explore alternative treatment options, she settled on a plan that gave her more hope.
"Still think I can make it past a year?" she wrote. "Because I do, I'm sure of it. ... They may not have told us what we wanted to hear, but what could we do to fix it?" After Jeffrey's death, her fiancé helped found the Eleanor Rose Foundation to help match other cancer patients with doctors and services by location and specialty.
This woman is nailing the whole selfie thing.
Rhonda Julian credits daughter Jada for detecting her breast cancer after the six-year-old accidentally elbowed her mom in the chest and found a lump. Going through treatment, Julian snapped a few selfies that ended up going viral.
"You can't beat the likes of a hospital bathroom with all the fixins," she wrote on her blog. "Now you see I'm okay. Walking around, goofin' and everything." Julian now runs The Paint Her Pink Foundation, promoting breast cancer awareness.
And she is, too!
Please do not mind that my eyebrows look different (ones falling out more than the other) but hello !!! SELFIE :)) pic.twitter.com/mScE0NV3kU

— emma (@thebasedjew) February 13, 2014
Known only as Emma on Twitter, she's got nearly 14,000 followers.
This woman took a moment before her double mastectomy...
...to show off some badass dance moves in front of her surgical team. Deborah Cohen, Ob/Gyn and Beyoncé fan, rocked out to "Get Me Bodied" for six whole minutes.
This lady is just plain adorable.
my mom has her 4th and FINAL chemo treatment on monday. lets pray that the cancer will be all gone.💜 pic.twitter.com/ZhhsJvUcGl

— josh.⛄️ (@joshfrankstein) January 19, 2014
And this kid had to find some way to entertain himself.
Today is National Cancer Day! Can't believe he's cancer free for more than a year. I love you dude @MarcoDaidone2 pic.twitter.com/hiF4MQbnqb

— TheGreatGabsby (@GabDaidone) February 4, 2014
This girl's megawatt smile basically lit up Twitter.
Heyooo selfie bc I'm basic and pretty much done with my first round of chemo. HOLLAA 🙌😜 pic.twitter.com/YTqgCe0SBc

— Abby Frye ☮☯ (@ayfrye) February 5, 2014
This lady's did, too!
Jan is a cancer survivor, has all her hair now. Luv this pic a tribute to pple still on the journey! #WorldCancerDay pic.twitter.com/tIMosnPhyv

— Maureen O'Boyle WBTV (@MaureenOBoyle) February 4, 2014
(Also, dancing.)
This woman wrote that having cancer's "not all bad and sad."
Louise Page was diagnosed with a rare bone cancer in 2004 that eventually resulted in four amputation procedures on her left leg. (Before the first procedure in 2008, she threw her problematic appendage a going away party.) Page kept a blog, where she kept an optimistic view of her struggles and triumphs, to help her cope with her disease until her death in May 2013.
"Believe it or not, there are great days too. I had loads of laughs on the cancer ward with the nurses and the other patients," she wrote. "I have cancer, but I am still living my life."
And finally, this guy found humor in a life with cancer with this excellent parody of the viral hit "Sh*t Girls Say."
The video's creator, Woody Roseland, is a seven-time cancer survivor, motivational speaker, and comedian who likes to sometimes ride his bike to chemotherapy.
BEFORE YOU GO
PHOTO GALLERY
Stunning Underwater Healing Photos of Cancer Survivors