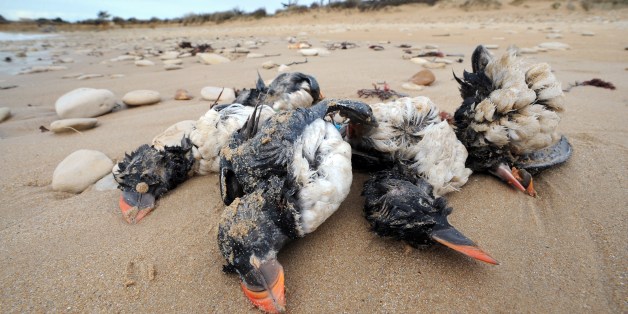 Thousands of birds have been killed in France. The culprit? Winter storms.
In a statement, the League for the Protection of Birds said that violent storms in January and February were responsible for the deaths of 21,341 birds. The country has apparently not seen a bird "slaughter" that large since 1900, the Agence France-Presse reports.
An initial estimate released earlier this month put the death toll at 5,000. But once the organization enlisted volunteers to help with the count from the start of the month through Feb. 24, the number rose dramatically.
Of the species of sea birds affected, the Atlantic puffin had the highest numbers of deaths, with more than 12,229 deceased found. Large numbers of the common murre (or black guillemot) and razor-billed auk were also killed. The league expects the overall death toll to rise as it continues to track the bodies through the end of the month.
The birds killed were primarily on France's Atlantic Coast, which was battered by severe storms earlier this year. Another 2,784 birds, injured by the strong weather, were transported to local rescue centers, the league said.
It seems many of the birds were killed not by strong winds or lightning, but the effects of the storm -- primarily a lack of food. Nicolas Gendre, a representative for the league, said that weather conditions "forced the birds to areas that are less rich in food," per the AFP.
Wildlife authorities in the United Kingdom also reported that hundreds of dead birds have washed ashore on beaches in southern England.
BEFORE YOU GO
PHOTO GALLERY
Beautiful Birds