 Attitudes toward gay marriage are changing rapidly. Attitudes toward Obamacare remain pretty much the same. And #twittertypo-based polls? Remember you heard it here first. This is HuffPollster for Wednesday, February 26, 2014.
MANY RELIGIOUS GROUPS NOW SUPPORT SAME SEX MARRIAGE - PRRI: "In the decade since Massachusetts became the first state to legalize same-sex marriage, Americans' support for allowing gay and lesbian people to legally wed has jumped 21 percentage points, from 32 percent in 2003 to 53 percent in 2013, transforming the American religious landscape. A major new national survey of more than 4,500 respondents conducted by the nonpartisan Public Religion Research Institute finds that while most religious groups opposed same-sex marriage in 2003, today there are religious groups on both sides of the issue. In addition to the nearly three-quarters of religiously unaffiliated Americans (73 percent) who favor allowing gay and lesbian couples to legally marry, majorities of Jewish Americans (83 percent), white mainline Protestants (62 percent), white Catholics (58 percent) and Hispanic Catholics (56 percent) currently support same-sex marriage. Hispanic Protestants are divided; 46 percent favor allowing gay and lesbian couples to legally marry and 49 percent oppose. By contrast, nearly 6-in-10 (59 percent) black Protestants and nearly 7-in-10 (69 percent) white evangelical Protestants oppose same-sex marriage. Only 35 percent of black Protestants and 27 percent of white evangelical Protestants support same-sex marriage." [PRRI]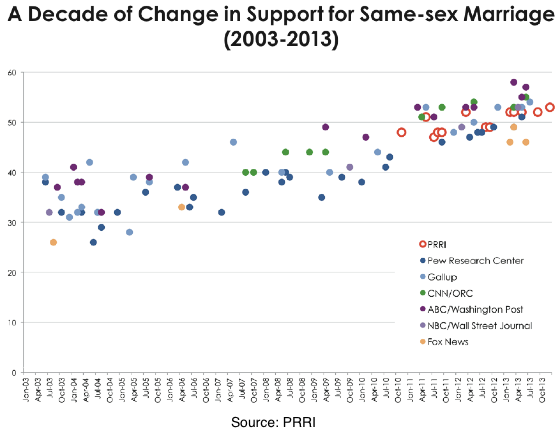 KAISER: ACA VIEWS STEADY SINCE JANUARY - Kaiser Family Foundation: "Overall opinion of the ACA remains about the same as it has been since November, with just under half the public viewing the law unfavorably (47 percent this month, 50 percent in January) and just over a third having a favorable view (35 percent this month, 34 percent in January). Still, more Americans want Congress to keep the law in place and work to improve it rather than repeal it. Among those who are currently uninsured, unfavorable views of the law continue to outnumber favorable ones by a large margin as they did in January. Lack of awareness about key aspects of the law also continues among the uninsured – just about a quarter are aware of the March 31st deadline to sign up for coverage, and just over six in ten say they know little or nothing about the ACA's health insurance exchanges." [Kaiser]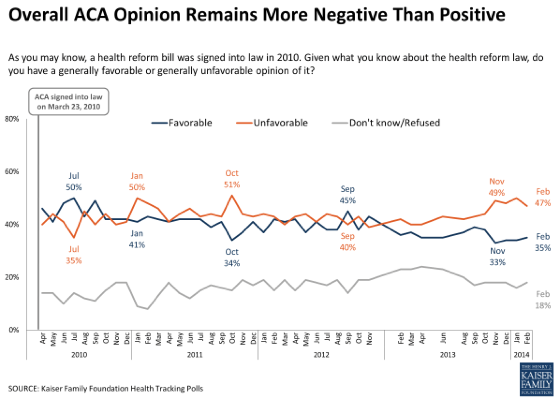 Potential ACA exchange customers prefer 'narrow network' plans - More from Kaiser: "Amid the recent media focus on "narrow network" health insurance plans, the latest Kaiser Health Tracking Poll finds that those who are most likely to be customers in the Affordable Care Act (ACA)'s new insurance exchanges (the uninsured and those who purchase their own coverage) are more likely to prefer less costly plans with narrow networks over more expensive plans with broader networks. Narrow network plans are a tougher sell among those with employer coverage, who tend to pay less of their health care costs directly since their employers pick up much of the cost...[T]hose who are either uninsured or currently purchase their own coverage – a group that is most likely to be in a position to take advantage of new coverage options under the ACA – are more likely to prefer less costly narrow network plans over more expensive plans with broader networks (54 percent versus 35 percent). Those who currently get their insurance through an employer (and are more protected from the cost of coverage) have the opposite preference: 55 percent prefer a more expensive plan with a broader network, while 34 percent would rather have a cheaper narrow network plan.[ibid]
Uninsured continue to view ACA unfavorably, but... - More from Kaiser: "Last month's tracking poll found a negative shift in opinion of the ACA among those who are currently uninsured, and that trend continues in February, with 56 percent of the uninsured having an unfavorable opinion of the law and 22 percent a favorable one. As more Americans gain coverage under the law, we can expect the group who remain uninsured to change over time, and some changes in opinion may be attributable to changes in who remains uninsured, rather than a shift in opinion among individuals." [ibid]
CORBETT LOOKS VULNERABLE IN PA GOV POLL - Stephen Calabria: "Pennsylvania Gov. Tom Corbett (R) remains deeply unpopular among voters in the state and trails each of his potential Democratic challengers, in some cases by wide margins, according to a Quinnipiac University poll released Wednesday. Corbett's approval rating is underwater in the survey, with just 36 percent of respondents approving of his job performance and 52 percent disapproving. This finding roughly matches Corbett's worst showing, when a June 2013 poll found his job approval rating at 35 percent. The governor trails five of his Democratic challengers by margins ranging from 19 points to 2 points. Corbett's worst numbers come when matched against York County businessman Tom Wolf (D), who beats Corbett 52-33 percent." [HuffPost, Quinnipiac results]]
Wolf leads in Dem primary - Franklin and Marshall College: "Wolf leads his closest challenger, Representative Allyson Schwartz, 36% to 9%. Rob McCord (3%), Katie McGinty (1%), and John Hanger (1%) are well behind Wolf as well. Nearly half (48%) of registered Democrats say they are still undecided….Tom Wolf's current advantage likely stems from his television advertising campaign. Nearly two in three (65%) registered Democrats have seen a television commercial for governor, and almost all (88%) of these respondents have seen a Wolf advertisement. Tom Wolf is the choice of 56% of Democrats who have seen one of his campaign advertisements and no other candidate reaches double-digits among this group." [F&M]
BUSH, PAUL, CLINTON TOP 2016 LIST - Sarah Dutton, Jennifer De Pinto, Anthony Salvanto and Fred Backus: "While the 2016 presidential election may be two years away, some prospective contenders have been getting a bit of media attention. The latest CBS News/New York Times Poll asked the public whether they would like to see some of these figures, as well as other party leaders, run for president in 2016. From a list of five high profile Republican Party leaders, former Florida Gov. Jeb Bush and Kentucky Sen. Rand Paul capture the most interest among self-identified Republicans; 41 percent of Republicans say they would like to see Bush run (27 percent say no to a Bush bid) while 39 percent say yes to a Paul candidacy (21 percent say no)....On the Democratic side, former Secretary of State Hillary Clinton is the most well-known of the political leaders measured in this poll, and most would like to see her enter the 2016 race. "[CBS]
POLL IDEA - Emily Swanson: "Free poll idea: 'Do you support or oppose Texas Republican Dan Patrick's proposal to limit marriage only to gay men?'" [@EL_Swan inspired by an epic typo]
HUFFPOLLSTER VIA EMAIL! - You can receive this daily update every weekday via email! Just enter your email address in the box on the upper right corner of this page, and click "sign up." That's all there is to it (and you can unsubscribe anytime).
WEDNESDAY'S 'OUTLIERS' - Links to the best of news at the intersection of polling, politics and political data:
-Seniors worry about ACA's effects on Medicare [Morning Consult]
-John Boehner's favorable rating returns to pre-shutdown levels [Gallup]
-Sen. Lindsey Graham (R-S.C.) holds "huge lead" over primary challenger. [Winthrop]
-Vincent Gray leads in DC Mayoral primary, but with just 28 percent of the vote. [NBC, WAMU, Marist]
-U.S. voters say they trust Hillary Clinton more than Congressional Republicans on the issue of Benghazi. [PPP(D)]
-Curtis Gans thinks Democrats could do better in 2014 than most think.[Washington Monthly via
Opinion Today]
-CDC surveys show a 43 percent drop in obesity among young children over the past decade. [WaPost]
-David Hill (R) foresees a public backlash to military budget cuts. [The Hill]
-Kristen Soltis Anderson offers a theory for why few Americans say President Obama is respected abroad. [Daily Beast]
-Jennifer Victor explains how political scientists lobbied to save their NSF funding. [Mischiefs of Faction]
-Caitlin Dewey explains why that map of "every state's favorite band" you may have seen isn't what it appears to be. [WaPost]
-Cell phone users are spending more time using them. [Nielsen]