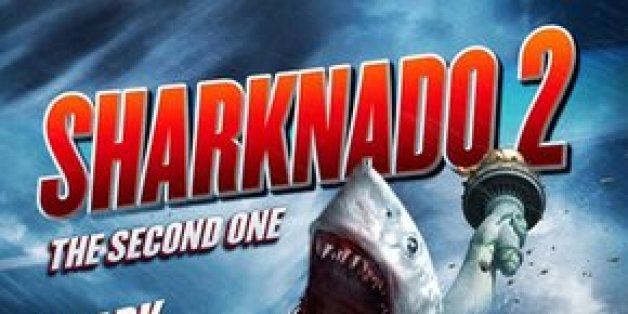 Dear Readers,
If any of you are reading this from New York City, quietly (and quickly) pack up your computer, say goodbye to your loved ones and head for the hills because there is a SHARKNADO happening in your city right now!
Okay, maybe a real sharknado isn't happening (yet), but "Sharknado 2" the sequel to the Syfy movie that defined a generation took the world by storm last Summer is back for another installment of man-eating madness.
"Sharknado" has expanded its regal cast, and not only are original members Tara Reid and Ian Ziering back, but they've also brought along some new meat for the sharks to munch on, namely Vivica A. Fox and Mark McGrath.
But enough reading! You didn't come here for words! You came here for sharks!
Check out the pics below showing what it's like on the set of "Sharknado 2: The Second One" as the sharks prepare to devour the Big Apple:
Here's newcomer Viva A. Fox showin' some shark love:

Watch out behind you, Tara!

Okay, we get it Vivica, you and Sharky really love each other:

Ian on a fire truck because things are getting heated:
Going to a Fire...a Rescue...Saving #NewYork from Sharks!
#Sharknado2 @IanZiering @TaraReid pic.twitter.com/QXHsmT5MXX

— Julia (@Jules_2010) February 25, 2014
Nom nom nom:
Tara tweets:
#sharknado2 help me! Lol pic.twitter.com/haRQfIJE0n

— Tara Reid (@TaraReid) February 24, 2014
Laughing through the pain:

How you catch a cab during a sharknado:
Pre-CGI shots from the set of #Sharknado2. Good times! - http://t.co/MJNec3RPDE pic.twitter.com/plVPmWOwbD

— Wolfgang Schmitt (@Golden_Gaytime) February 24, 2014
#acting:
First Look: #Sharknado2 begins shooting in NYC ... on the hood of a taxi! http://t.co/r7s0ClA6yT pic.twitter.com/PAgmcnlEdX

— Yahoo TV (@YahooTV) February 23, 2014
You know New Yorkers didn't even do a double take:

"What, no Cronuts?" said the shark:

Intense:

Not a good day for Sugar Ray:
Uh-oh, look what's being filmed in New York...#Sharknado2!! And this time it has celebrities! #HD983 pic.twitter.com/bMXgkasTwn

— HD98.3 Augusta (@HD983) February 24, 2014
Take cover, it's coming:
Words can not describe how excited i am for this #Sharknado2 pic.twitter.com/u6nnafKKoD

— Avery Dextrase (@avery_dextrase) February 23, 2014
"Sharknado 2: The Second One" premieres in July on Syfy.
BEFORE YOU GO