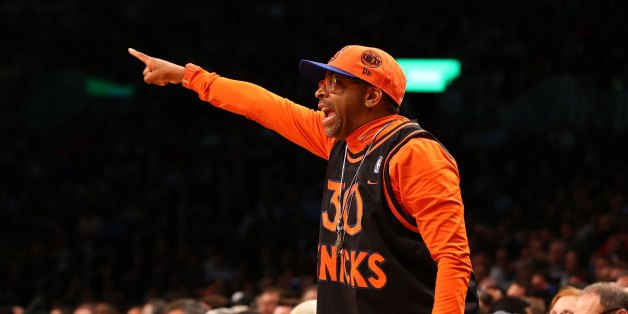 While speaking at an event at Pratt Institute Tuesday evening, Spike Lee slammed an audience member's question about the "other side of gentrification" with a powerful 7-minute response.
"Let me just kill you right now," Lee intervened. He then specifically pointed to a recent article in the New York Times titled "Argument Over A Brownstone Neighborhood," which the legendary director criticized as "bullshit."
This article contains explicit language.
What proceeded was an incredibly forceful defense of Lee's home borough of Brooklyn and complete denunciation against the notion gentrification can bring about positive changes to a neighborhood's original residents. A few excerpts below:
Here's the thing: I grew up here in Fort Greene. I grew up here in New York. It's changed. And why does it take an influx of white New Yorkers in the south Bronx, in Harlem, in Bed Stuy, in Crown Heights for the facilities to get better? The garbage wasn't picked up every motherfuckin' day when I was living in 165 Washington Park. P.S. 20 was not good. P.S. 11. Rothschild 294. The police weren't around. When you see white mothers pushing their babies in strollers, three o'clock in the morning on 125th Street, that must tell you something.

Have you seen Fort Greene Park in the morning. It's like the motherfucking Westminster Dog Show. There's 20,000 dogs running around.

...I mean, they just move in the neighborhood. You just can't come in the neighborhood. I'm for democracy and letting everybody live but you gotta have some respect. You can't just come in when people have a culture that's been laid down for generations and you come in and now shit gotta change because you're here? Get the fuck outta here. Can't do that!

Head to New York Magazine for the complete transcript.
While the debate over gentrification may be nothing new, Lee's defense is particularly stunning because of its deeply personal point of view. It's also backed with statistics. According to a report conducted by the Thomas B. Fordham Institute's Michael Petrilli, Brooklyn is home to four of the 25 fastest gentrifying zipcodes in the entire country.
Fort Greene specifically, where Lee grew up and where his office is located, has seen a staggering 29.6 percent change in white population from 2000 to 2010.
Real estate developers have even begun encroaching upon Brownsville, one of the most crime-ridden neighborhoods in New York City.
The director also railed against the intense competition parents take on in order to secure their children's place in some of the city's most elite private schools -- schools that are currently struggling to forge a Brooklyn identity while somehow avoiding the path to become the blatantly well-to-do schools Lee referenced.
Brooklyn's overwhelming influx of young, affluent residents over the years has indeed put pressure on the borough's public schools to improve standards and provide alternatives. But Lee says it's precisely that impetus that has been flawed.
"So, why did it take this great influx of white people to get the schools better? Why's there more police protection in Bed Stuy and Harlem now? Why's the garbage getting picked up more regularly? We been here!"
LISTEN: