Planning a trip -- whether it's a two-week vacation or a weekend getaway -- is always exciting. But packing can be quite a pain. Our biggest gripe: carry-on bags that never fit our travel-size beauty products. (What's the point of them being "travel-sized"?)
If you are tired of squeezing your favorite moisturizer, shampoo and shaving cream into cheapie plastic containers that just end up exploding when you're 35,000 feet in the air, then we'd like to introduce you to TravelBeauty.com.
This website has an amazing selection of luxury travel-sized beauty products from brands all over the world. From Swiss face serum to a British manicure set, you'll reach your destination looking better than ever.
Below are seven luxury beauty products to get ready for your next trip. Bon voyage!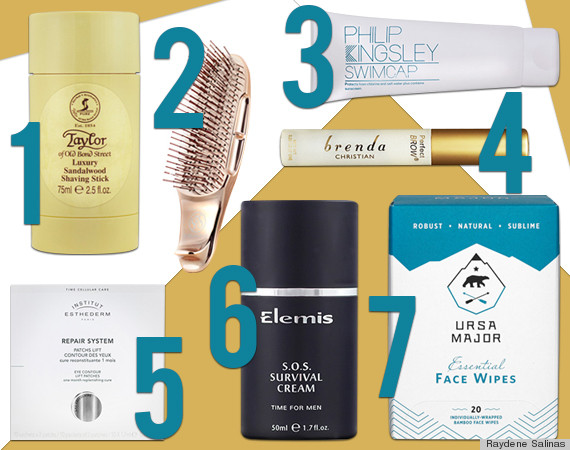 1. Taylor of Old Bond Street Sandalwood Shave Stick, $20. This masculine-scented shave stick takes the messiness out of getting smooth results. Ladies, we definitely recommend borrowing from the fellas.
2. S-Heart-S Scalp Brush Mini, $72. Toss that bulky (and hideous) hair brush and pack this scalp-massaging "shampoo brush" instead.
3. Philip Kingsley Swimcap, $18. Protect your strands from the harsh environmental elements with a hair conditioner that also pulls double-duty as a leave-in.
4. Brenda Christian Perfect Brow Gel, $18. If you don't have time to do your makeup, you can at least groom your brows in seconds with this product.
5. Institut Esthederm Repair System Eye Contour Lift Patches, $82. Look well-rested, even if you did end up on a flight with a screaming baby, with these under-eye patches.
6. Elemis S.O.S. Survival Cream, $75. Listen up, guys: That sun-kissed glow you got from laying out on the beach won't be sexy the next day if you don't slather on a hydrating moisturizer.
7. Ursa Major Essential Face Wipes, $24. These bamboo fiber facial wipes were made right here in the good old USA, and they get the job done when it comes to cleansing dirt and oil from the skin.
BEFORE YOU GO
PHOTO GALLERY
Celebrity Airport Style