Bill Watterson, the notoriously reclusive creator of the comic "Calvin and Hobbes", has finally released his first new, public work of art in nearly 20 years. Fans of the precocious six-year-old boy and his meddling stuffed tiger, rejoice!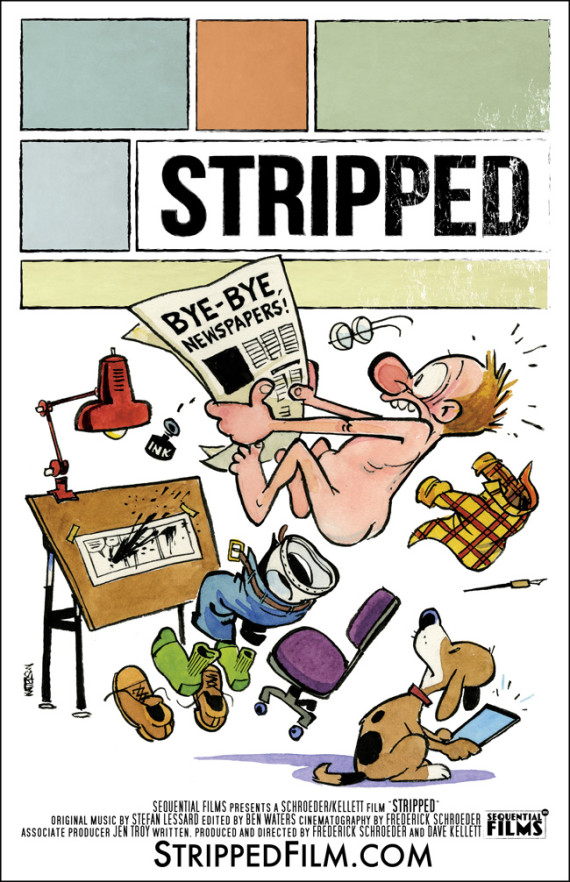 The illustration -- a poster for the upcoming documentary "Stripped" -- debuted on the heels of a Watterson drought stretching back to 1995. The documentary, described as a "love letter to comic strips," features interviews with the comic world's most iconic figures, including Watterson, "Garfield"s Jim Davis and "Cathy"s Cathy Guisewite. In it, they discuss the uncertain future of comics as the age of the newspaper comes to a close.
Watterson's "Stripped" poster features a frantic comic artist jumping out of his clothing upon reading the news headline "Bye-Bye Newspapers!" Watterson explained the inspiration behind his image to the Washington Post:
"Given the movie's title and the fact that there are few things funnier than human nudity, the idea popped into my head largely intact. The film is a big valentine to comics, so I tried to do something really cartoon-y. I had thought of having it colored with off-registered printing dots like newspaper comics, but Dave [Kellett] asked if I'd paint it instead, and I think he made the right call."
"Stripped," which will be released on DVD on April 2 and is available for pre-order on iTunes now, describes itself as a film "about pursuing art in an age when the business of art is changing constantly." See a preview of the highly anticipated movie below:
Correction: An earlier edition of this article dubbed this poster Watterson's first artwork since 1995, when in fact it is his first public artwork since 1995. In 2011 he created a piece to raise money for charity.