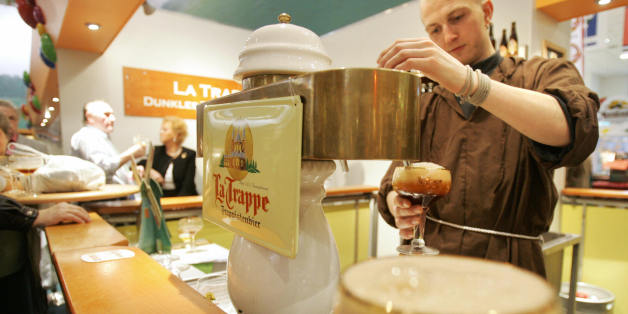 When we think of monks, we tend to think of austerity, solitude and long days spent chanting and praying. And while the focus of their daily lives is devotional activity, many monks manage to be extremely productive in a way you might not expect: running successful businesses.
The discovery of this fact left a lasting impression on August Turak. After a skydiving accident caused a wake-up call that led him to reevaluate the way he was working and living, the former MTV executive began visiting a Trappist monastery in South Carolina, and became fascinated by the way the monks ran their businesses.
Turak, who later wrote a book on the subject, Business Secrets of the Trappist Monks: One CEO's Quest for Meaning and Authenticity, said that the selfless nature of the monks' work was the real secret to their success. He also explained that for the monks, work-life integration is seamless:
"The monks don't worry about balancing work and prayer; they are equally important. Work is a form of prayer, and prayer is a form of work. I found that one of the best praying times I had was while I was at work, standing at an assembly line. Your ordinary life is your spiritual life. Every single challenge can be an opportunity for transformation if you look at it in the right way."
Trappist monks do live by the Benedictine motto ora et labora, "pray and work," as well as the principle that they should "live by the work of their hands." By this tradition, work -- though separate from prayer -- is also an act of selflessness and devotion.
Here are five examples of the work done by Trappist and Buddhist monks, proving that any kind of work can be a labor of love.
Beer
Trappist monks are famous for making beer (and they have a reputation for great products), although up until recently, all certified Trappist breweries were located in Europe. But this year, St. Joseph's Abbey in Western Massachusetts created its Spencer Trappist Ale, the first certified Trappist beer to be brewed outside Europe.
The St. Joseph's monks learned about the brewing process from a local brewer and obtained funding for a state-of-the-art brewing facility. For the recipe, they settled on a low-alcohol variety of refectory ale.
"The recipe allows monks to drink them on occasion and still go on and do monastic things," Reverend Isaac Keeley, the brewery's director, told NPR. "Ours is a golden-hued, full-bodied ale. It has a nice aroma, which kind of whets your appetite."
Currently, the beer is only for sale within the state, but the monks are hoping to expand their business in the future.
Sand Mandalas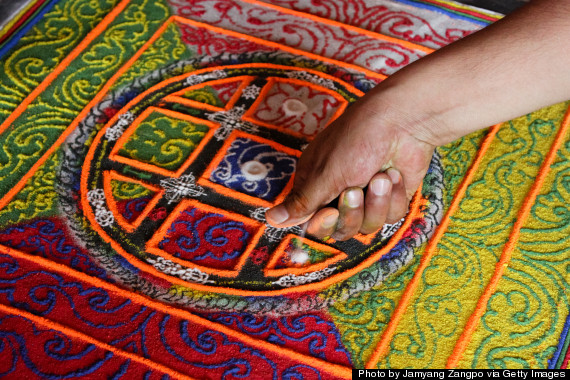 Tibetan Buddhist monks can spend weeks creating the large, intricately crafted sand mandalas -- an ancient, sacred art form dating back more than 20,000 years. Known as dul-tson-kyil-khor, or "mandala of colored powders," the creations -- which are often destroyed right after they are made -- represent the cycle of birth and death (samsara) and the nature of impermanence.
"Millions of grains of sand are painstakingly laid into place on a flat platform over a period of days or weeks," the Dalai Lama's public talks website explains. "Formed of a traditional prescribed iconography that includes geometric shapes and a multitude of ancient spiritual symbols, the sand-painted mandala is used as a tool for re-consecrating the earth and its inhabitants."
Watch this incredible stop motion timelapse video of TIbetan Buddhist monks creating a sand mandala to see the process for yourself.
Bread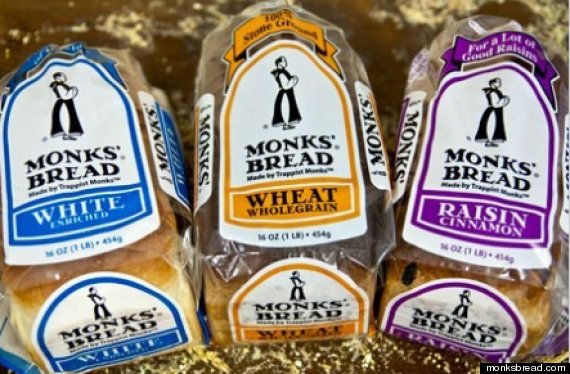 When they're not occupied with prayer, the 30 Trappist monks living at the Abbey of the Genesee in western New York make "Monks' Bread" and other baked good for sale both at the monastery and online. The monastery also sells coffee, preserves, nut butters, teas, sauces and granola made by the monks.
In addition to sharing the work of making the bread and food, the monks also help with farming, cooking, cleaning and hospitality.
Soap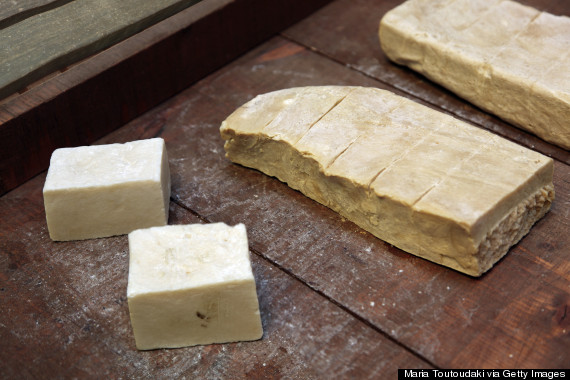 The monks at Saint Joseph Abbey in Southern Louisiana and many others spend their days making artisanal soaps, which they sell as appropriately-named "Monk soap." According to the Abbey's website, the demand for the soap has been growing, and one monk, Brother Andrew, now occupies much of his time with creating new bars.
"With two small crock pots and four molds, the most he can make is 100 bars a day, and he can barely keep up with demand," the Abbey writes. "These days, he says, "It's a small operation, but brother, business is booming!" He thinks it might slow down after Christmas, but we all believe that's his way of being humble, and demand is only going to rise."
Caskets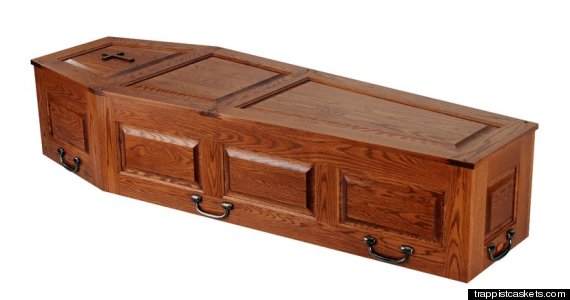 At New Melleray Abbey in Iowa, a Catholic monastery that's over 160 years old, making wooden caskets is a way of life. The monks create each casket with their signature "old-world craftsmanship" and an aesthetic of simplicity, crafted out of wood harvested from the trees in the forest surrounding the Abbey. Each urn and casket is blessed by a monk, and the abbey offers memorial services for each person who is buried in them.
Bartending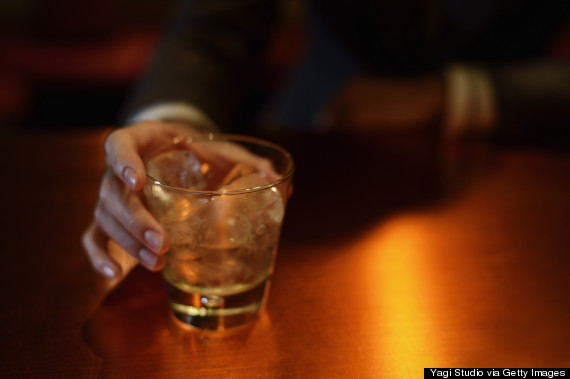 In Tokyo, you can get a little dose of spirituality with your beer or whiskey at Vow'z Bar, a local watering hole run by Buddhist priests. Although the bar may not comply with some of the traditional rules of Buddhism, its owner explains that the bar is an accessible place for people to connect with their spirituality.
"When people have had a few drinks, it's often easier to communicate with them on spiritual matters here than it is talking at a temple," Yoshinobu Fujioka, Buddhist priest and owner of Vow'z Bar, told CNN Travel. Fujioka hails from the more liberal True Pure Land school of Buddhism.
In addition to daily happy hours, the bar hosts gatherings where people can come and discuss the teachings of Buddhism.