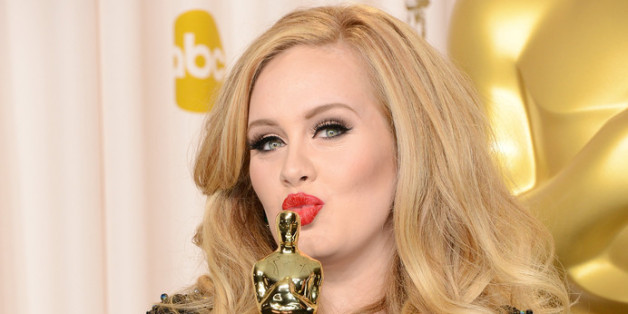 Remember Best Original Song? It used to be an event category at the Oscars. Throughout the awards' history, most years' biggest movie anthems would double as massive Billboard hits. Before "Baby, It's Cold Outside" became a holiday fixture, it was an Academy Award-winning number from the 1949 movie "Neptune's Daughter." "The Way You Look Tonight," "Raindrops Keep Fallin' on My Head" and "Take My Breath Away" were all soundtrack entries before they were pop staples. And that's not even beginning to touch the behemoth that was "My Heart Will Go On."
Then, a little more than a decade ago, the trend ended. Eminem's 2002 chart-topper "Lose Yourself" was the last Best Original Song winner to make a dent in mainstream music. In years since, a few songs attempted to revive the trend, particularly Adele's "Skyfall," which won last year. But that was an anomaly in the past decade, given the award's history, and not even the ever-beloved Adele can count herself among the most popular Best Original Song winners.
Best Original Song was first introduced at the 7th Academy Awards, in 1934. Of the 79 winners since, 56 have been definitive Billboard smashes (ranking in the Top 25 of the Hot 100 or its equivalent, considering the Billboard chart as we know it wasn't introduced until 1958). Of the 23 that weren't mainstream hits, 11 of them are from 2000 or later.
Bob Dylan's "Things Have Changed," which earned "Wonder Boys" a statuette in 2000, was the first champion that failed to become a hit since the category suffered a rare three-year dry spell in the late '80s. After Dylan, only "Lose Yourself" and "Skyfall" have made notable marks. Even "It's Hard Out There for a Pimp," the 2006 winner from "Hustle & Flow" that generated buzz because it was such an unusual pick, failed to draw mainstream success independent of its win. Not even a popular artist like Melissa Etheridge, who won in 2007 for a track from "An Inconvenient Truth," could find a crossover hit in her Oscar win. Certain Oscar ceremonies haven't even included performances from the Best Original Song nominees, indicative of the category's sudden inability to help the telecast draw ratings thanks to the A-list pop stars who make the billing.
Now we have a slate of well-known artists lined up to take the Oscar stage on Sunday. Did "Skyfall" ignite a resurgence? The now-disqualified "Alone Yet Not Alone" was as obscure as they come, but the remaining four nominees comprise pop wunderkinds and a Disney smash. Two of those -- U2's "Ordinary Love," from "Mandela: Long Walk to Freedom," and Karen O's "The Moon Song," from "Her" -- failed to chart. Pharrell Williams' "Happy," on the other hand, just hit No. 1 on the Hot 100. The category's frontrunner, "Frozen" showstopper "Let It Go," currently sits at No. 18, but that's largely because Billboard charts now calculate digital downloads and YouTube streams, and the Disney anthem has become an insuppressible viral sensation. Even though it peaked in the Top 25, it's not the same type of mainstream hit -- one that dominates the Top 40 scene -- as former winners like 1988's "(I've Had) The Time of My Life" and 1994's "Streets of Philadelphia." Perhaps this signals a shift in the music landscape rather than the movie landscape. Soundtracks often cited as the best of the 2000s and 2010s -- "Garden State," "Almost Famous," "Juno," "High Fidelity," "Pitch Perfect," "O Brother, Where Art Thou?" -- largely repurposed previously recorded songs instead of cranking out unique anthems. Amid declining music sales, compilations can become significant sellers in ways that many soundtracks don't now, with the exception of "Twilight" and certain animated films' albums, both of which sell primarily to target demographics. In fact, 2006's, 2009's and 2012's Oscars only featured two or three Best Original Song nominees each because there were so few qualifying contenders. That previously happened only once in the category's history -- in 1989. (The Academy of Motion Picture Arts and Sciences' rules dictate that nominees receive a score of 8.25 on an average point system of voting, meaning there's no guarantee the category will feature five finalists.) In short, the category's relevance is enduring a low point.
It'll take a few more years to determine whether there's a true revival in the works, but it certainly seems the movie and music industries' slumps have conflated in recent years, resulting in a plunge for one of the most obvious hybrids between the two entertainment worlds. At the very least, we can all celebrate -- or perhaps bemoan, depending how you view it -- the fact that this Sunday's "Let It Go" performance will be the closest we've come in a long time to an Oscar moment like this:
While we're at it, here are a few of the biggest pop stars who've performed or accepted awards for winning songs on the Oscar stage:
Donna Summer, "Last Dance" (1979)

Stevie Wonder, "I Just Called to Say I Love You" (1985)

Lionel Richie, "Say You, Say Me" (1986)

Madonna, "Sooner of Later" (1991)

Elton John, "Can You Feel the Love Tonight" (1995)

Whitney Houston and Mariah Carey, "When You Believe" (1999)

RELATED ON HUFFPOST:
PHOTO GALLERY
BEFORE YOU GO
2014 Oscar Snubs & Surprises
PHOTO GALLERY
2014 Oscar Snubs & Surprises