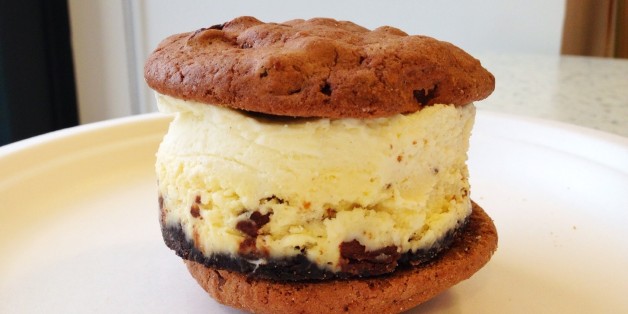 Adam Fleischman, the mind and muscle behind Umami Burger and ChocoChicken, has wowed us again, but this time with cheesecake (and cookies!) -- which means only the best of things.
LA Creamery, an all natural Los Angeles-based ice cream company (which is run by Stephen Bikoff, Brad Saltzman and Adam Fleischman) is releasing the next generation of cookie sandwiches: the Cheesecake Sammie. These double-decker desserts will end you, and we mean that in the best of ways.
One Cheesecake Sammie is easily two inches thick -- you have to open really wide -- and as wide as your palm. It's essentially an entire slice of cheesecake that's being hugged by two perfectly baked cookies. It's awesome. And way better than you could ever imagine. Also, you get to eat it with your hands.
The cheesecake isn't just any cheesecake, it's perfectly creamy with just the right amount of sweetness. You can taste that it was made by hand, with love, by the artisanal cheesecake baker of Jennifer Pennifer Foods. LA Creamery tasted 22 different types of cheesecakes before discovering Jennifer's. We're glad they sacrificed their waistlines for the sammies' sake -- they've fessed up to having put on a couple of pounds during the process. And the cookies match the cheesecake in deliciousness.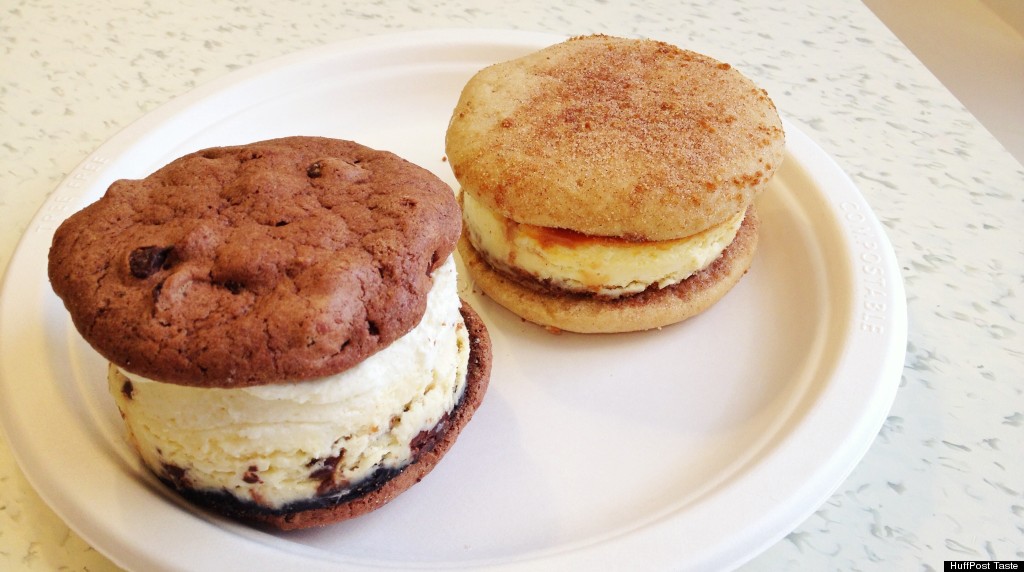 The sandwiches currently come in three flavors: Chocolate Chunk Cheesecake with Double Chocolate Cookies, Salted Caramel Cheesecake with Snickerdoodle Cookies, and Coconut Cheesecake with White Chocolate Macadamia Nut Cookies. The three sammies are delightful, but the coconut cheesecake with white macadamia nut cookie really stole the show. They plan to release seasonal flavors, such as chocolate covered strawberry cheesecake for Mother's Day and a Jewish jelly donut cheesecake for Hanukkah (!!!).
These epic Cheesecake Sammies will be available in the California area the first week of April in participating supermarkets and restaurants. So far we know you can find them at Bristol Farms and Gelson's Markets (late April) -- and we highly suggest you look out for them.
Want to read more from HuffPost Taste? Follow us on Twitter, Facebook, Pinterest and Tumblr.
BEFORE YOU GO
PHOTO GALLERY
Cheesecake Recipes