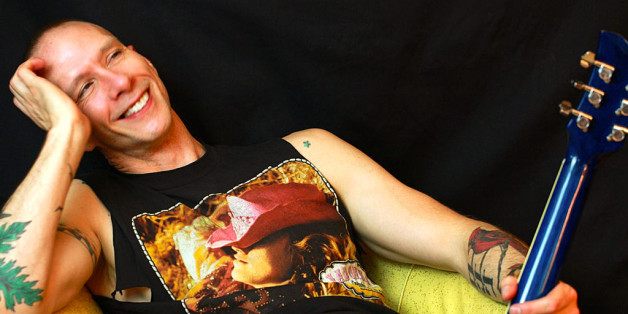 To the world, Madonna is a pop provocateur whose record-smashing career spans more than three decades and shows no signs of slowing down. But to New York playwright and performer J. Stephen Brantley, the Material Girl is more than just a superstar -- she's also an inspiration and a spiritual muse.

"She's the one cultural icon who has been around since I was 13 years old," Brantley says. "I've always been a fan and always admired how she integrates sex and spirituality and art and activism -- that pushes all my buttons, and that's what I try to do as an artist, too."
It's no surprise, then, that the Queen of Pop's discography forms the basis for Brantley's new one-man show, "Chicken-Fried Ciccone: A Twangy True Tale of Transformation," which is currently playing at Under St. Mark's Theater as part of the 2014 Frigid New York Festival in Manhattan. Over the course of an hour, the Texas-born Brantley ("Pirira," "Eightythree Down") re-interprets more than a dozen songs from Madonna's expansive catalog -- including "Like a Virgin," "Open Your Heart" and "Vogue"-- as poignant country ballads, backed only by his acoustic guitar. He makes a distinct effort to go beyond the greatest hits, incorporating less-heralded gems like 2003's "Love Profusion" and "Turn Up the Radio," a cut from Madonna's underappreciated 2012 album, "MDNA," into the mix.
But "Chicken-Fried Ciccone" is more than just an inspired karaoke act, as Brantley juxtaposes Madonna's sunny lyrics with dark anecdotes about his desperate early years in New York, which included moments of homelessness and prostitution as well as a decade-long struggle with heroin addiction. To be fair, Brantley's theatrical journey to self-acceptance through his love of a diva shares elements with Jonathan Tolins' "Buyer & Cellar," starring Michael Urie. In comparison to that show, however, "Country-Fried Ciccone" is a free-flowing cowboy cabaret, and Brantley exudes a warm stage presence in a handful of spontaneous moments that wouldn't be found in a more structured theater piece. There's a definite arc to Brantley's narrative, too, as well as some smart thoughts about overcoming the power of addiction.
As to how he developed the piece, Brantley is quick to compare his own perseverance to Madonna's glitzier rise to world domination: "My own strange journey has somehow paralleled her more public exploration of [similar] issues." Now a Kabbalah devotee, he's had a few face-to-face encounters with the Queen of Pop, too, having auditioned for her 1993 Girlie Show Tour.
Ultimately, Brantley and director David Drake hope audiences see "Chicken-Fried Ciccone" more as a "personal story of re-invention" than 60 minutes of Madonna worship. In fact, Drake says he and Brantley found themselves removing or revising the musical segments throughout the rehearsal process; while he was adamant no lyrics be changed from Madonna's originals, Brantley now sings many of the tunes in fragments or mash-ups.
After his final Frigid performance, Brantley hopes to take "Chicken-Fried Ciccone" on the road. He's also optimistic that Madge herself might eventually take in a performance down the line: "I think she'd dig it, because it is about re-inventing yourself. It's ultimately not about Madonna, it's about me, and if anything, I hope she'd see it as a loving tribute."
J. Stephen Brantley performs in "Chicken-Fried Ciccone: A Twangy True Tale Of Transformation" at the 2014 Frigid New York Festival in Manhattan on Feb. 28, March 6 and 8. Head here for more information.
BEFORE YOU GO
PHOTO GALLERY
Madonna's Wildest Moments