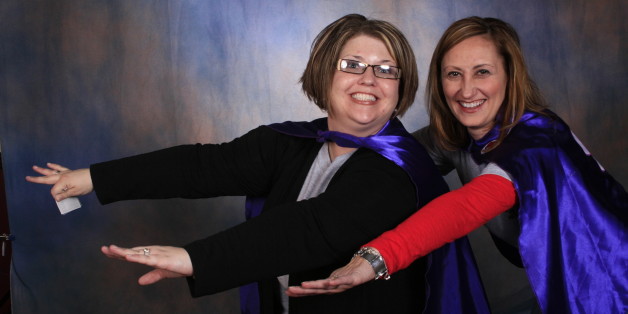 Kitty Burton of Omaha, Neb., is the kind of mom who works constantly to protect her three children with love, support and strength. But when one doctor's diagnosis left her feeling utterly powerless, she knew she had to go above and beyond -- to help her youngest son feel not just strong, but superheroic.
Burton's son Sam was diagnosed in utero with hypoplastic right heart syndrome, a rare and severe type of congenital heart defect. The news left Burton and her husband in total shock. "We didn't even know that kids could be born with heart disease, but we knew we had a pretty big road ahead of us," Burton told The Huffington Post.
Sam's case, unfortunately, isn't unique. Nine out of 1,000 babies are born with some sort of congenital heart disorder, or CHD, according to the American Heart Association. And one in 150 babies -- Sam Burton among them -- are born with the sort of serious heart defect that requires major surgery, according to Dr. Kim Duncan, a congenital heart surgeon at the Children's Hospital and Medical Center of Omaha.
"In the first two weeks of life, congenital heart defects are the second leading cause of death next to infection," Duncan told HuffPost. "It's more common than almost all forms of leukemia and cancers in children, but there's a lot less research."
Medical professionals agree that the heart defects that occur during fetal development are likely caused by genetic abnormalities. But they still don't know exactly how these things happen. "The vast majority of parents don't have the [same] problem. Sometimes it's familial, but it's not as common or as direct a link as with something like diabetes," said Duncan.
In time, Burton found comfort in new friendships with fellow "heart moms" -- other women whose children suffered from CHD. As their children progressed, the mothers kept in touch, serving as a support network for one another as doctor appointments, surgical procedures and life-threatening emergencies filled their lives.
Shortly after Christmas 2009, Burton received some unsettling news from Sam's doctors. Her son's heart wasn't growing at the rate they had hoped, which meant he had a new diagnosis -- and a new series of surgeries to get through. Feeling powerless to help her son through the next step of his CHD treatment, she turned to her team of heart moms for support over a cup of coffee at their local café. She joked to the girls, "You know what? I'm going to get my kid a superhero cape." That offhand comment swiftly turned into something more: Together the moms brainstormed the idea of a "heart hero," complete with a shiny cape. Could something as simple as a piece of satin affect a child's courage and confidence each time he set foot in the hospital?
That evening, Burton went online to search for a cape for Sam. She came across Superfly Kids, a Michigan company that makes custom superhero capes for children's costumes. At the time, the Superfly team was searching for a charitable cause to support -- and found one in Burton's new project. Soon, Heart Heroes, Inc. was an official nonprofit organization, partnered with Superfly and led by the original group of heart moms. The organization's logo was taken directly from a napkin sketch from the initial coffee shop brainstorm session.
Today, Heart Heroes' mission remains the same: to supply each child battling CHD with a customized superhero cape to help them power through doctor visits, lifesaving surgical procedures and tough recoveries. Burton, president and co-founder of the organization, personally processes each cape request that comes through the Heart Heroes website. Parents can pick emblems, choose a cape's color and provide the child's initials for embroidery. Burton takes this information and designs each cape through Superfly, which in turn hand-sews and ships the cape directly to the heart hero. The capes are 100 percent satin and machine-washable, and each one proudly displays the Heart Heroes logo.
In just a few years, Heart Heroes has sent capes to kids in Australia, the United Kingdom, South Africa, Canada, Mexico and throughout the United States. The organization received national attention last year from NBC news producer John Boxley, who ran a Nightly News segment about it. A subsequent local NBC broadcast helped garner further support from Burton's community.
"Our hearts have been in it 120 percent since the beginning. It's our passion -- it's become more than a hobby," Burton told HuffPost. "We had a mission and weren't going to stop. We wanted to not only provide support for the kids with the capes, but also be that support for the family, something to just let them know they're not alone. To have another heart mom who really gets it and knows what it's like to lose a child or let go of a child to go back and have surgery, it's a different type of friendship that's formed."
In addition to providing capes, Heart Heroes partners with a local cookie company to send "mended heart" cookies to kids and their families after a procedure. It also sends memorial tree seedlings to families in honor of a child who has passed away. Heart Heroes co-founder and executive director Sondra Dubas has written a book, Miracle of Belief, that tells the story of her daughter's 63-day journey of healing after a stroke caused by CHD. All proceeds from the book go toward other Heart Heroes efforts.
Burton, for her part, continues to draw inspiration from Sam, remembering moments from two years ago as if they happened yesterday. On his first day of preschool, Sam sat down with his mother and a team of specialty therapists. Before the meeting began and introductions were made, Sam looked around at his personal Special Forces team and said with a smile, "Y'all want to see my crack?" Before Burton could fret about his next move, Sam lifted up his shirt to share the evidence of his three previous open-heart surgeries. Everyone in the room burst into laughter, the ice broken by this comedic young boy with half a heart.
Last fall, to continue spreading the word, the women behind Heart Heroes organized a Super Run in Omaha where each participant sported a flashy superhero cape in lieu of the standard race T-shirt. The 2,000 meter and 5,000 meter runs received such an outpouring of support that Heart Heroes will be hosting Super Runs across the country in 2014. "We have them everywhere from Maine to Hawaii right now, so that's our next way of providing support and creating awareness," said Burton.
Sam is now 6 years old. He's running, jumping and playing like every other boy his age. His superhuman strength, and his endless optimism despite the worst of circumstances, have helped him survive a stroke, several serious surgeries and each recovery process that followed. Beneath that cape lies a true superhero, but behind that superhero stands an incredible supermom.
CORRECTION: A previous version of this article gave the name of Heart Heroes' executive director as Sondra Dumas. Her name is Sondra Dubas.