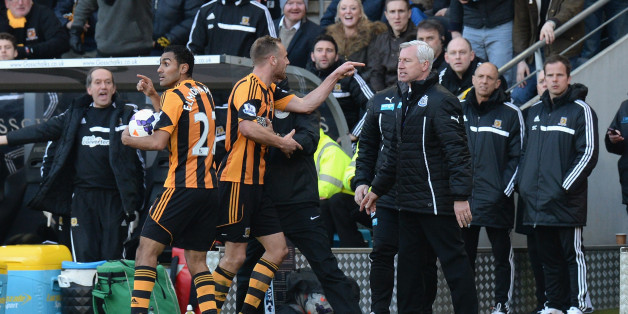 Alan Pardew's regrets are massive and his punishment may be as well.
The Newcastle manager appeared to headbutt Hull City midfielder David Meyler on the sideline during in his side's 4-1 win on Saturday. The combustible coach clashed with Meyler when the ball rolled out of bounds near the spot he was stationed on the touchline. Meyler first bumped Pardew as he chased the loose ball near the Newcastle bench. The 52-year-old manager did not appreciate the contact and ultimately struck the opposing midfielder with his forehead. Pardew was sent off by referee Kevin Friend after order was restored.
"It was a heat of the moment thing. I massively regret it," Pardew said after the match, via The Guardian. "I think I'm going to sit down now because that's two or three incidents I've been involved in. I think I'm going to sit now. I didn't meant to do anything aggressive but I moved my head forward and that's enough. It's a shame because it took the gloss off a fantastic performance from us. That's really upsetting."
Amid the apologies, Pardew also seemed to be attempting to defend his actions. Notably, he explained why he believed that him pushing his head into the head of Meyler wasn't actually a headbutt.
"I don't think it was a headbutt," Pardew contended during his postgame remarks, via Goal.com. "It wasn't a motion that was quick. I was just getting him out of my face."
While the comments on social media made by those watching in the U.S. contained enough Woody Hayes references to make it feel like a Saturday during the college football season, Jeff Stelling of Sky Sports' "Soccer Saturday" produced what may be the most memorable reaction to the incident.