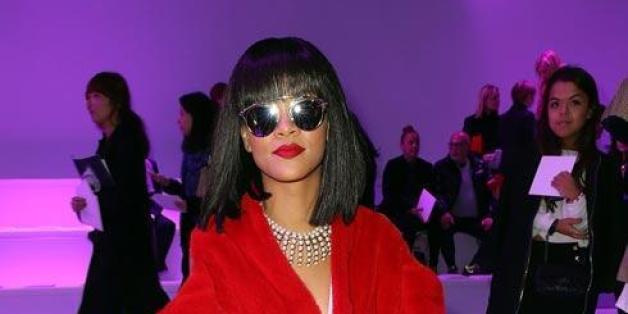 We're really wishing we were in Paris right about now, and our Twitter feeds aren't making us feel much better about it.
Paris Fashion Week kicked off with a bang, and we've been closely following editors and bloggers for the latest updates on runway trends and front row action. Rihanna graced us with her presence and impeccable style at the Dior show, as she dressed in a plunging black V-neck dress, fabulous red fur coat topped with pearls and a bold red lip. Killin' it as always, Rihanna. Jessica Alba also showed up in the City of Light wearing soft, muted tones and an adorable bob.
In other news, Sarah Jessica Parker released her shoe line this week, declaring, "If I'm going to ask you for $325, I better wear the shoe myself." Well, that's good to know SJP.
Check out the must-see tweets of the week below.
A colorful lineup backstage at Dries Van Noten: http://t.co/gMco3z6MNt #PFW pic.twitter.com/IW9PQeU1dF

— The Cut (@TheCut) February 28, 2014
Contributor @StyleMeGrasie gets ready for the #Oscars in truly stylish fashion: http://t.co/Fs9gfpMH6s #SmileStyle pic.twitter.com/X0IfYEmsIO

— StyleList (@StyleList) February 28, 2014
"If I'm going to ask you for $325, I better wear the shoe myself." SJP on her new shoe line: http://t.co/dU3nkCebgo pic.twitter.com/iJmrrCTzju

— Harper's Bazaar (@harpersbazaarus) February 28, 2014
Rihanna dresses to impress for the Dior show in Paris >> http://t.co/cKAmIQWcKE pic.twitter.com/6wZfzZWyiE

— Glamour Magazine UK (@GlamourMagUK) February 28, 2014
Rosie in Saint Laurent : Just one of our favorite runway looks from February's red carpets. http://t.co/1ZBDtiVJ93 pic.twitter.com/LhP1KcaQNF

— Vogue.fr (@VogueParis) February 28, 2014
Daniel Radcliffe on his hair: "It's a f*cking nightmare" http://t.co/eNmWpbo50J

— ELLE Magazine (US) (@ELLEmagazine) February 24, 2014
Dispatches from #PFW: Read @Rebecca_ELLE's review of @dior A/W 2014 http://t.co/uo5HN5Bubu pic.twitter.com/FM27dAmftW

— ELLEUK (@ELLEUK) February 28, 2014
Just in: All the street looks from day 3 of #PFW See our favorite style moments now: http://t.co/E9PZFH3x8U #FW2014 pic.twitter.com/iIHtlqafrR

— Vogue.fr (@VogueParis) February 28, 2014
"March is like the Wednesday of the year." -Meeting wisdom from @ppuurrr

— Glamour (@glamourmag) February 28, 2014
Check out all those kickass Pumas http://t.co/89ql4CfcuZ pic.twitter.com/lqxw4H5rQN

— Ellie Krupnick (@elliekrupnick) February 28, 2014
BEFORE YOU GO
PHOTO GALLERY
Rihanna Beauty Evolution