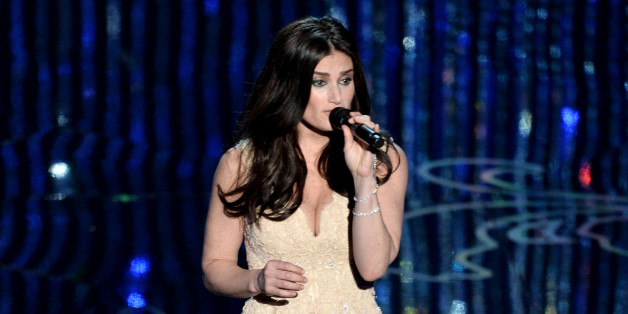 There were a lot of names that were tough to pronounce at the Oscars this year, from Chiwetel Ejiofor to Barkhad Abdi. But no one thought "Frozen" star Idina Menzel would be the one to have her name butchered.
When John Travolta took the stage to introduce Menzel for her performance of "Let It Go," which later won the Oscar for Best Song, he completely screwed up her name.
No one had any clue what he said and Twitter's reaction was just as confused with guesses like "Adele Dazeem," a name which now has its own Twitter account (of course). Maybe he was a little too excited about his "Wicked" pun to remember how to say her name correctly.
Here are some of the best tweet reactions to Travolta's mega mess up:
Adele Dazeem I love your work

— Jordan Cohen (@jorcohen) March 3, 2014
Classic Adele Azim.

— Richard Lawson (@rilaws) March 3, 2014
Is "Adele Dazeem" trending yet? Travolta nails it!

— Josh Wolk (@JoshSWolk) March 3, 2014
"John Travolta Attempts To Pronounce Names" would be the most dramatic show on TV. #Oscars

— Ryan McGee (@TVMcGee) March 3, 2014
What words did John Travolta just say there?

— Christopher Rosen (@chrisjrosen) March 3, 2014
"Screw it, I'll just make up a name." - John Travolta

— Rachel Zarrell (@rachelzarrell) March 3, 2014
John Travolta's apparently not a big Idina fan.

— Matt Singer (@mattsinger) March 3, 2014
Did Travolta just introduce Idina Menzel as "Adele Naseem"?

— Dana Stevens (@thehighsign) March 3, 2014
Wow John Travolta... what the hell did you say? And do to your face?

— Casey Cipriani (@CaseyCip) March 3, 2014
Adele Dazeem did okay, I guess

— Jessica Goodman (@jessgood) March 3, 2014
For more on the 2014 Oscars, head here.
Clarification: Language has been amended to clarify that Menzel had not won the Oscar prior to Travolta's introduction of her.
BEFORE YOU GO
PHOTO GALLERY
Oscars Photos 2014