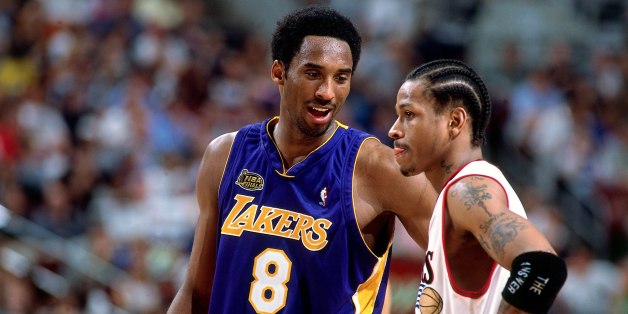 Kobe Bryant paid tribute to Allen Iverson on Friday in a moving Instagram post, the same night that the Philadelphia 76ers retired the 11-time All-Star's number and raised his jersey to the rafters at the Wells Fargo Center.
"Time has wings my brotha. Your game pushed my then 21 year old self to play beyond my years. Your impact on the game will be felt for generations. #salute #respect #96 #AI," Bryant wrote.
Bryant, who was born in Philadelphia and went to high school just outside the city, won his second NBA title when he and the Los Angeles Lakers faced off against Iverson's 76ers in the 2001 Finals. Bryant was one of many NBA players who showed respect for Iverson on social media.
Pound for pound!! Congrats homie. What a pleasure to complete against u and also become a friend in… http://t.co/R5iusBFT5d

— LeBron James (@KingJames) March 2, 2014
All the great players that's ever played, The Answer has had more influence on my game than anyone else..

— Jamal Crawford (@JCrossover) March 2, 2014
One of the greatest. Respect #AI3 http://t.co/Dg0XdG5npo

— Ricky Rubio (@rickyrubio9) March 2, 2014
He probably scored, because that's what he does!! Congrats @alleniverson on jersey retirement. pic.twitter.com/fxeFkn80Ti

— Michael Finley (@Da_Finster) March 2, 2014
Wat a great honor to play and get the win on the nite my role model got his jersey retired....#TheAnswer !! pic.twitter.com/TZA0WDRWtM

— John Wall (@John_Wall) March 2, 2014
Pound for pound one of the greatest of all time! His confidence and tenacity was so inspiring. Coach… http://t.co/L2iVY2d41L

— evan turner (@thekidet) March 2, 2014
Congrats AI...u inspired a generation

— Hakim Warrick (@hdubb21) March 2, 2014
BEFORE YOU GO
PHOTO GALLERY
2013-14 NBA Highlights