 Hollywood's biggest stars hit Los Angeles' Dolby Theater on Sunday, March 2, for the 86th annual Academy Awards.
"12 Years a Slave" was named Best Picture at the Oscars' 2014 ceremony, winning two other awards, including Best Supporting Actress for Lupita Nyong'o. It was "Gravity," however, that won the most awards on Sunday night's Oscars broadcast. Alfonso Cuaron's space epic received seven Oscars, including wins for Cuaron in the Best Director and Best Editing categories. "Gravity" and "American Hustle" were tied for the most nominations on the night with 10 in total. ("American Hustle" was left empty handed.)
Hosted by Ellen DeGeneres, some of the hottest names in acting, such as Julia Roberts, Meryl Streep and Leonardo DiCaprio, were up for awards at the 2014 Oscars, as well as newcomers like Nyong'o and Barkhad Abdi.
At last year's Academy Awards show, "Life of Pi" paced all films by taking home four awards, including Best Director for Ang Lee. It was edged out for Best Picture, however, by Ben Affleck's "Argo," which received three Oscars in total.
Check out the full list of winners below.
BEST PICTURE
"12 Years a Slave"
BEST ACTOR
Matthew McConaughey, "Dallas Buyers Club"
BEST ACTRESS
Cate Blanchett, "Blue Jasmine"
BEST SUPPORTING ACTOR
Jared Leto, "Dallas Buyers Club"
BEST SUPPORTING ACTRESS
Lupita Nyong'o, "12 Years a Slave"
BEST DIRECTOR
Alfonso Cuaron, "Gravity"
ALL OTHER CATEGORIES
Best Animated Feature
"Frozen"
Best Foreign Language Film
"The Great Beauty" (Italy)
Best Documentary
"20 Feet From Stardom"
Best Original Screenplay
"Her," written by Spike Jonze
Best Adapted Screenplay
"12 Years a Slave," screenplay by John Ridley
Best Original Score
"Gravity," Steven Price
Best Original Song
"Let It Go" from "Frozen," music and lyric by Kristen Anderson-Lopez and Robert Lopez
Best Editing
"Gravity," Alfonso Cuarón and Mark Sanger
Best Cinematography
Emmanuel Lubezki, "Gravity"
Best Production Design
"The Great Gatsby," Catherine Martin (Production Design); Beverley Dunn (Set Decoration)
Best Costume Design
Catherine Martin, "The Great Gatsby"
Best Makeup and Hairstyling
Adruitha Lee and Robin Mathews, "Dallas Buyers Club"
Best Sound Editing
Glenn Freemantle, "Gravity"
Best Sound Mixing
Skip Lievsay, Niv Adiri, Christopher Benstead and Chris Munro, "Gravity"
Best Visual Effects
Tim Webber, Chris Lawrence, Dave Shirk and Neil Corbould, "Gravity"
Best Live-Action Short
"Helium," Anders Walter and Kim Magnusson
Best Animated Short
"Mr. Hublot," Laurent Witz and Alexandre Espigares
Best Documentary Short
"The Lady in Number 6: Music Saved My Life," Malcolm Clarke and Nicholas Reed
03/03/2014 12:39 AM EST
That's A Wrap
An historic night for Steve McQueen and "12 Years a Slave," wins for Matthew McConaughey, Cate Blanchett, Jared Leto and Lupita Nyong'o, seven Oscars for "Gravity" and no love for "American Hustle." These were your 2014 Oscars. Hope you enjoyed it!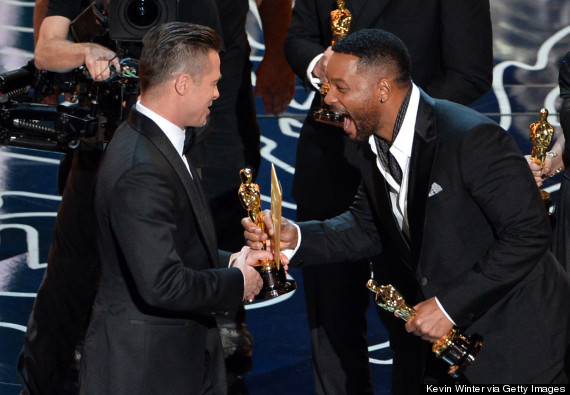 03/02/2014 11:52 PM EST
Um?
NO ALL RIGHT ALL RIGHT ALL RIGHT WUT BIGGEST UPSET OF THE NIGHT.

— Christopher Rosen (@chrisjrosen) 5 years ago
03/02/2014 11:51 PM EST
Matthew McConaughey Wins Best Actor
#truedetectiveseason2 is McCounaughey and his Oscar. He won for his role in "Dallas Buyers Club."
03/02/2014 11:47 PM EST
Cate Blanchett Thanked Woody Allen After Winning Her Oscar
She also gave an impassioned plea to Hollywood to acknowledge that people want to see movies with female leads. One of the night's most memorable speeches.
03/02/2014 11:42 PM EST
Time For Best Actress!
Will Cate Blanchett thank Woody Allen? Let's find out!
03/02/2014 11:39 PM EST
Not The Best They've Ever Done
"American Hustle" has lost seven times, thus far, on Oscar night, including in the Original Screenplay category where Spike Jonze's "Her" took top honors.
03/02/2014 11:38 PM EST
"Gravity" Has Seven Oscars Right Now
Just because it's great and you need to know that.
03/02/2014 11:35 PM EST
Alfonso Cuaron Wins Best Director For "Gravity"
Cuaron wins his second Oscar of the night for "Gravity."
BEFORE YOU GO
PHOTO GALLERY
Stars' First Oscars