Comcast's planned takeover of Time Warner Cable might win it a huge share of the U.S. cable market, but it is not winning the hearts and minds of its customers.
Consumer perceptions of both companies have collapsed since Comcast announced on Feb. 13 it was buying Time Warner Cable in a $45 billion deal, as you can see from the chart below. (Story continues after chart.)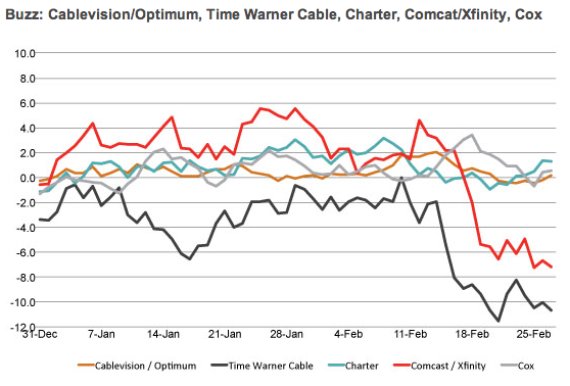 The chart comes from YouGov BrandIndex, which tracks brand perception of major companies on a daily basis. The lines represent the "buzz," or consumer sentiment, for five large cable providers. YouGov measures buzz by asking poll respondents: "If you've heard anything about the brand in the last two weeks, through advertising, news or word of mouth, was it positive or negative?"
As you can see, buzz for cable companies tends to be pretty neutral, with most scores hovering around zero. But that all changed with news of the deal, which some think should be blocked by the government based on what it would do to competition in the cable industry.
YouGov's numbers aren't totally surprising. After all, the deal is probably going to be bad news for consumers, who are already paying extraordinary amounts of money every month for cable. The deal would also combine the two lowest-scoring cable companies in the American Customer Satisfaction Index.
"A lot of noise in the media about a merger is apt to temporarily influence any brand," a representative from Time Warner Cable told The Huffington Post in an emailed statement. "This year, we remain on course to introduce substantial changes in our service -– including tripled to quadrupled Internet speeds, a new more modern TV interface, doubling of our On Demand library and an even more reliable network –- all of which we believe customers will cheer over."
Comcast did not immediately respond to HuffPost's request for comment on the YouGov data, though the company has maintained that a deal wouldn't stifle competition in the industry.
That said, the buyout would give the cable conglomerate outsized control of the cable market. Here's a chart from Reddit, using stats from Wikipedia, that shows what the cable market might look like post-merger: