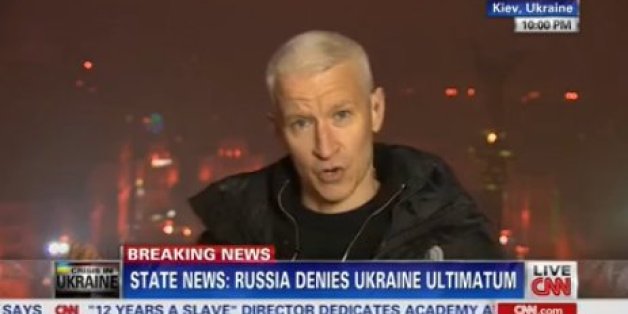 Network correspondents reported from Ukraine on Monday as the country's political conflict with Russia continues to escalate.
Russian troops invaded Ukraine over the weekend in a move that Secretary of State John Kerry condemned as an "incredible act of aggression."
Anderson Cooper was one of several correspondents networks sent to cover the conflict. "It is 10:00 here at the end of a very tense day in the country of Ukraine," Cooper said from Kiev's Independence Square at 3 p.m. EST on CNN Monday. "All eyes still on the situation in Crimea. The government in Kiev, the central government, a shaky government to say the least."
Meanwhile, Bill Neely has been in Simferopol covering the conflict for NBC News. He
tweeted
Sunday,
Ukrainian troops behind gate of their base gaze out at dozens of Russian soldiers on other side. Very Cold War pic.twitter.com/YIesxxuYAg

— Bill Neely (@BillNeelyNBC) March 2, 2014
TV Newser reported Monday that Amy Kellogg is reporting from Kiev for Fox News, while Alex Marquardt is in Crimea for ABC News. CBS News has Elizabeth Palmer reporting from Sevastopol, as well as Charlie D'Agata and Clarissa Ward in Kiev.