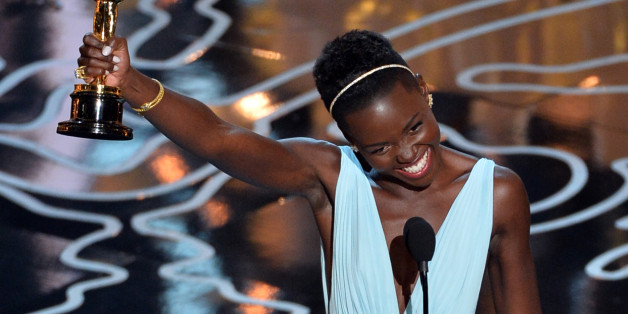 We went into the 2014 Oscars cautiously optimistic. It's hard to imagine a better host than Ellen DeGeneres, who we knew wouldn't deliver a sexist musical number a'la Seth McFarlane's "We Saw Your Boobs"-gate circa 2013. However not a single woman was nominated in the Best Director category and women were sparsely represented in the Best Original and Adapted Screenplay categories.
With familiar chagrin, we prepared for a three-hour sausage fest at the podium. The show's most noteworthy moments, however, were anything but. Despite underrepresentation in award categories, we've come to rely on the women of Hollywood to make their voices heard at award show ceremonies. The 2014 Oscars did not disappoint.
Some of our favorite moments from Hollywood's biggest night included:
-- Ellen reserving the complimenting and friendly teasing expected of an opening monologue almost exclusively for women, including Jennifer Lawrence, Meryl Streep, June Squibb, Lupita Nyong'o and Liza Minnelli. Tone: set.
-- Pharrell dancing with front-row goddesses Meryl Streep, Lupita Nyong'o and Amy Adams during his performance of "Happy." These will be the GIFs that just keep giving.
-- Best Costume Design and Best Production Design winner Catherine Martin proved she really knows how to get the most out of clothes: "I do have a few words taped to my bra," the "The Great Gatsby" MVP announced during her speech.
-- Literally the best selfie that has ever and will ever be taken.
If only Bradley's arm was longer. Best photo ever. #oscars pic.twitter.com/C9U5NOtGap

— Ellen DeGeneres (@TheEllenShow) March 3, 2014
-- Darlene Love accepting the award for Best Documentary Feature on behalf of "20 Feet from Stardom" in song.
-- Lupita Nyong'o winning the award for Best Supporting Actress for her phenomenal performance in "12 Years a Slave" and her stunning acceptance speech.
-- Pink's gorgeous performance of "Somewhere Over The Rainbow." Earnest childhood meets angsty adolescence.
-- Ellen's turn as Glinda the Good Witch.
-- Liza Minnelli and Lupita Nyong'o hugging it out.
-- Idina Menzel's performance of "Let It Go" from "Frozen" gave us... um... chills.
-- Cate Blanchett dropping some wisdom in her acceptance speech for Best Actress: "Films with women at the center are not niche movies." Yes.
-- Steve McQueen, director of Best Picture winner "12 Years a Slave," thanking "all women in my life, and they are all the most powerful."
The evening was rife with tweet-worthy material, and women on Twitter were on it. We gathered some of our favorite tweets from women during the 2014 Academy Awards below:
PHOTO GALLERY
Women React To The 2014 Academy Awards