By Alexei Anishchuk
KIRILLOVSKY TRAINING GROUND, Russia, March 3 (Reuters) - President Vladimir Putin on Monday watched Russian tanks and armoured vehicles trundle across a training ground in the north-west of the country, as Moscow flexed its muscle in a geo-political face-off with the West over Ukraine.
Putin attended the final day of war games he ordered on Feb. 26 to test the combat-readiness of his armed forces in western and central parts of Russia, regions adjacent to Ukraine.
Accompanied by his Defence Minister Sergei Shoigu, Putin flew by helicopter to the Kirillovsky training ground outside Vyborg, a town on Russia's border with Finland.
Putin smiled as he walked towards the command centre where he watched tanks, barely visible in thick fog, and listened to artillery fire. He made no comment.
Russia's military exercises come amid tensions in neighbouring Ukraine, where Russian forces have effectively taken control of the Crimea region which has an ethnic Russian majority and hosts a Russian naval base.
This has caused an outcry in the West and among Ukraine's new, pro-European leaders in Kiev, as well as a sharp sell-off on Russian markets and a slide in the rouble. (Writing by Gabriela Baczynska; Editing by Giles Elgood) Russian President Vladimir Putin, center, and Defense Minister Sergei Shoigu, left, and the commander of the Western Military District Anatoly Sidorov, right, walk upon arrival to watch military exercise near St.Petersburg, Russia, Monday, March 3, 2014. (AP Photo/RIA-Novosti, Mikhail Klimentyev, Presidential Press Service)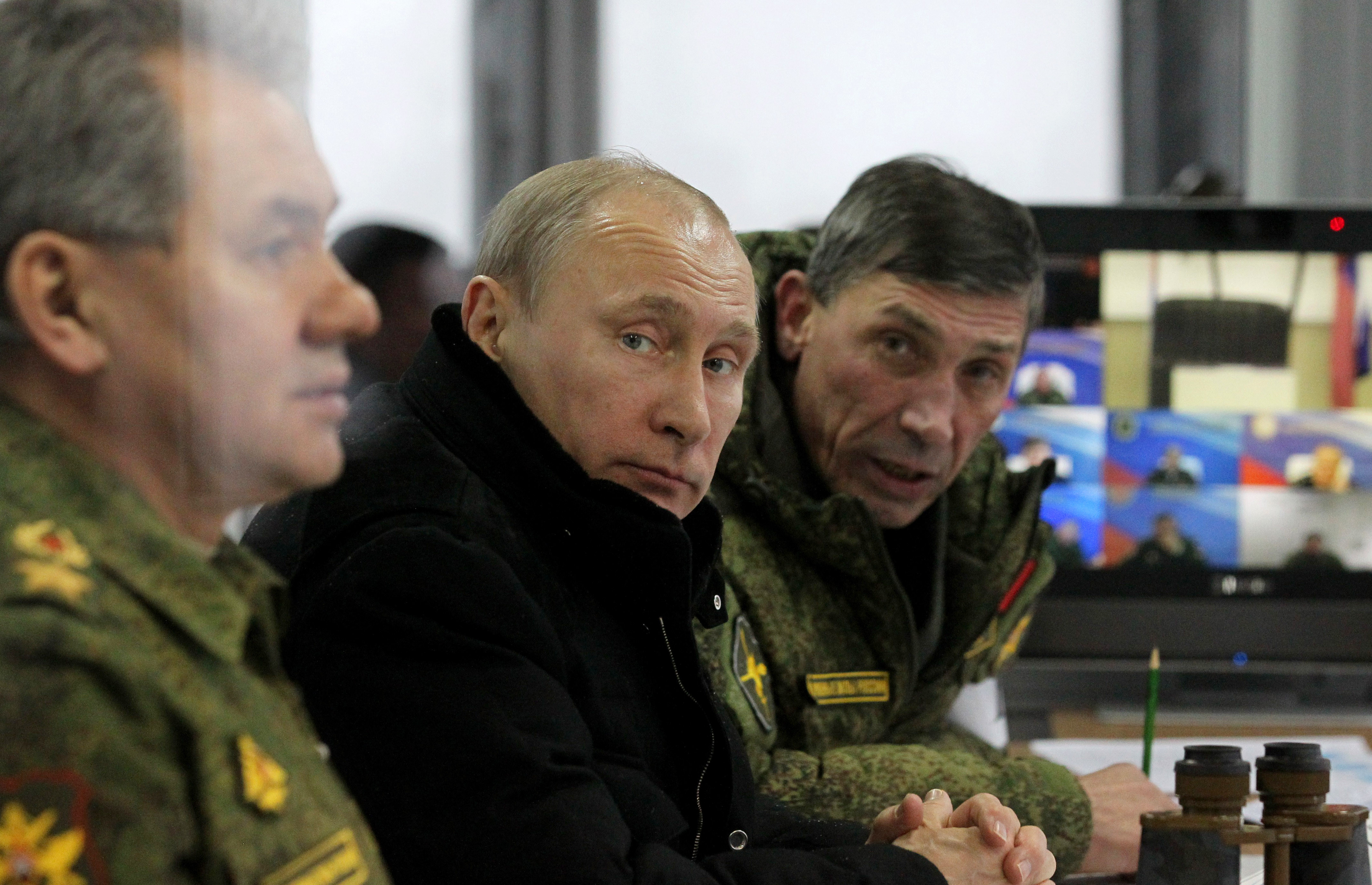 Russian President Vladimir Putin (C) and Defense Minister Sergei Shoigu (L) watch a military exercises at Kamenka polygon on March 3, 2014 near Saint Petersburg, Russia. (Photo by Sasha Mordovets/Getty Images)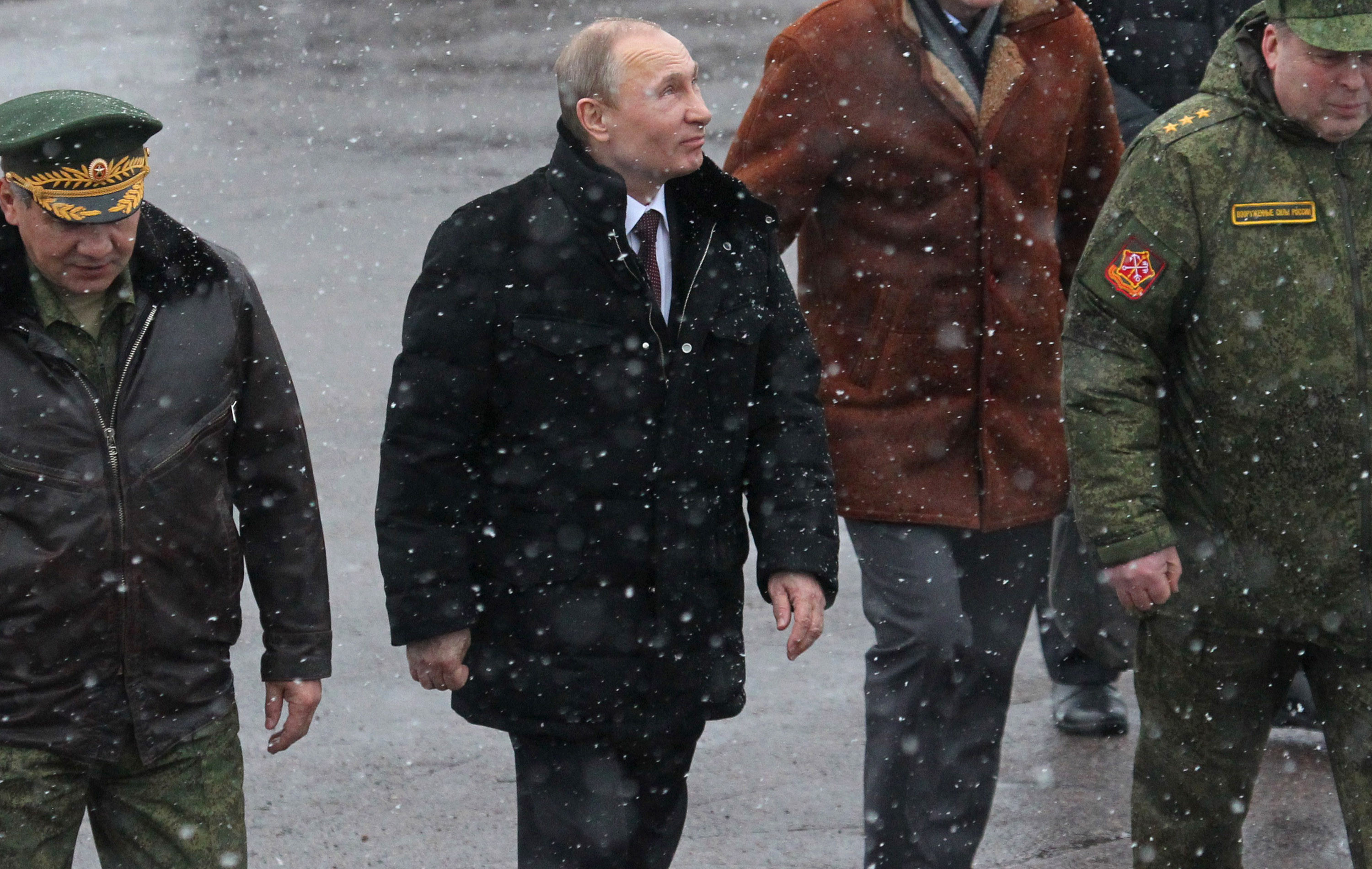 Russian President Vladimir Putin (C) and Defense Minister Sergei Shoigu (L) arrive to observe a military exercises at Kamenka polygon on March 3, 2014 near Saint Petersburg, Russia. (Sasha Mordovets/Getty Images) Russian President Vladimir Putin, center, and Defense Minister Sergei Shoigu, left, and the Chief of Gen. Ivan Buvaltsev, right, watch a military exercise near St.Petersburg, Russia, Monday, March 3, 2014. (AP Photo/RIA-Novosti, Mikhail Klimentyev, Presidential Press Service)
BEFORE YOU GO
Captions by the Associated Press
PHOTO GALLERY
Timeline Of Ukraine's Political Crisis