To some, fashion is about personal expression, creativity or making a statement. For the team at Seattle's Union Gospel Mission, it's about all three -- especially the latter.
The organization, which provides emergency care and long-term recovery services to homeless people in the Seattle area, recently announced it is producing a fashion line in the hopes of moving its mission forward.
"It's more than just a fashion statement," the group said in a press release. "It's a human statement."
The label, one of the first of its kind in the country, combines the talents of local fashion students with clothing donated to the organization to create unique pieces, according to Q13 Fox News. The line, titled "Others Like Us" or OLU, will be available for purchase online starting March 7.
OLU currently features black, white and gray T-shirts, hooded sweatshirts and hats, which range in price from $14 to $35. Some of the T-shirts will showcase the smiling faces of Seattle's homeless to personalize the cause.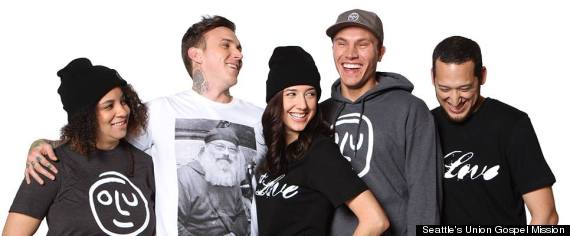 All revenue from the clothing line will go toward the work being done by Seattle's Union Gospel Mission.
Jeff Lilley, the president of the organization, told Q13 Fox that he hopes the clothing line will eventually result in jobs for those shipping the clothes, selling them in-store, and possibly those staying in shelters who choose to create their own merchandise.
Visit the organization's website or like the label on Facebook for more information.
BEFORE YOU GO
PHOTO GALLERY
Seattle Homeless Shelter To Launch High Fashion Label