One newspaper published a stunningly awful headline for "12 Years A Slave" on Monday.
The Daily Breeze, a newspaper in Southern California, ran the following front page the morning after the movie won the Oscar for Best Picture: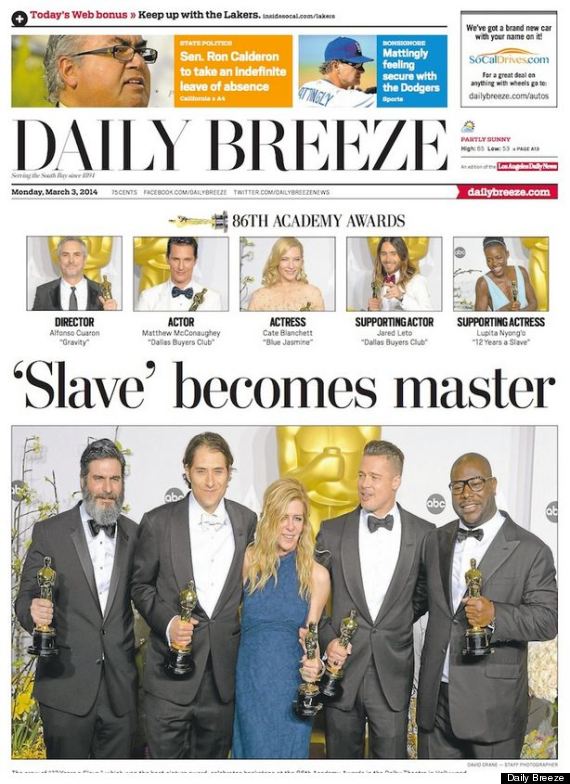 It was so bad that the Internet collectively wondered how it made it to print in the first place. Critics sounded off on Twitter, calling it the worst headline ever.
Wow. Worst headline of the year contender. http://t.co/SkFCfIL8pT

— Rebekah Allen (@rebekahallen) March 4, 2014
Worst. Headline. Ever. Executive 'winced' when he saw Daily Breeze's Oscars headline | Poynter.: http://t.co/2i5xtWZDPC

— JGutierrezKrueger (@jolinegkg) March 4, 2014
@Ledermuller Dude, who wrote that headline in the Daily Breeze? That is nutball crazy.

— Gieson Cacho (@gcacho) March 4, 2014
Let's all cross our fingers that this is the most racist #12YearsASlave headline that we ever see, because it's BAD. http://t.co/fsL4yGCNsJ

— Crushable.com (@crushabledotcom) March 4, 2014
The Daily Breeze has not issued a statement about the headline, though its parent company spoke out. Michael Anastasi, the executive editor of Digital First Media's Los Angeles News Group — which owns the paper — told Poynter that he "winced" when he saw the headline. (Visit Poynter for the rest of his comments.)
Anastasi added in an interview with Yahoo News that there was a meeting with "all editors involved" to discuss exactly how the front page materialized.