Though meteorological winter -- defined as Dec. 1 through March 1 -- came to a close last Friday, you'd have a hard time knowing that based on the snowy, shiver-inducing weather that continues to plague much of the Midwest and East Coast.
Still, the bitterly cold, snowy weather experienced in much of the country this winter -- introducing the term "polar vortex" to us -- is something of an anomaly when compared to the rest of the planet: heat waves have hit Australia and temperatures have also been above normal in parts of Russia and much of China. All told, the southern hemisphere has seen its warmest start to a year on record.
Some parts of the United States have also seen wildly varying winters. For example, while Chicago's winter has officially ranked as the city's third-coldest on record (and the coldest ever according to another measure), Miami has had exactly the opposite sort of winter with its third-warmest on record.
For some perspective on what a wild winter it's been, let's take a closer look at the very different winters these two cities have experienced.
Chicago's average temperature for meteorological winter was 18.8 degrees, the National Weather Service told the Tribune. (AP Photo/Kiichiro Sato)
Meanwhile, in Miami, temperatures have been 2 to 3 degrees above normal (on average) this winter, the National Weather Service announced Monday. February's temperatures were 4 degrees above the average temperature of about 70 degrees. (AP Photo/Alan Diaz)
The temperature dipped below zero on 25 days over three months in Chicago and below 32 degrees on 84 days -- the city didn't even get a week's worth of days above freezing. The lowest the mercury dropped? -16 degrees on Jan. 6, setting a new record for the day. (AP Photo/Andrew A. Nelles)
In Miami, the temperature never dropped below zero all three months. Or below 32, for that matter. The lowest temperature recorded? 46 degrees on Jan. 19 -- a full 62 degrees warmer than Chicago's lowest-recorded temperature.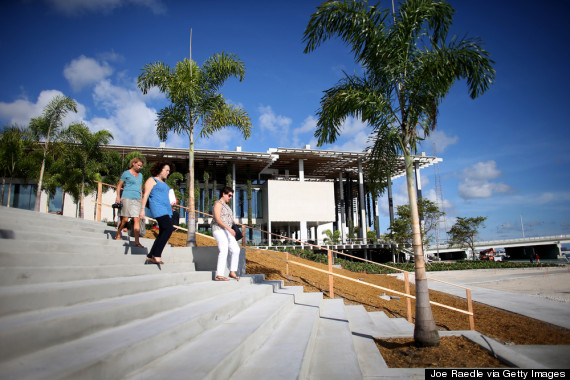 (Joe Raedle/Getty Images)
The highest temperature in Chicago this winter? A balmy 56 degrees, recorded at O'Hare on Dec. 4. (AP Photo/Charles Rex Arbogast)
The highest temperature recorded in Miami? 86 degrees on FOUR separate days, Dec. 15 and Feb. 24-26. Bringing the heat, indeed. (AP Photo/Wilfredo Lee)
Over the 90 days of meteorological winter, Chicago had 48 days of at least light snow, according to the NWS' preliminary seasonal climate report. (AP Photo/Kiichiro Sato)
Miami had no snow (surprise!) but did have a taste of some nasty, record-setting rainfall. On Dec. 26, 3.75 inches of rain -- more than 6 times the 99-year-old record for the day -- fell.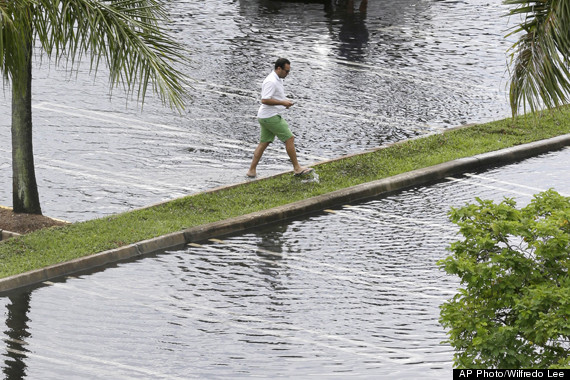 (AP Photo/Wilfredo Lee)
Chicago also recorded 67.4 inches of snow at O'Hare over three months, qualifying it as the city's third-snowiest meteorological winter since 1871. (AP Photo/Nam Y. Huh)
Again, no snow in Miami. No. Snow. When you've had the sort of winter the Midwest and East have had this year, this notion may be difficult to fathom but Miami is, indeed, a real-life place.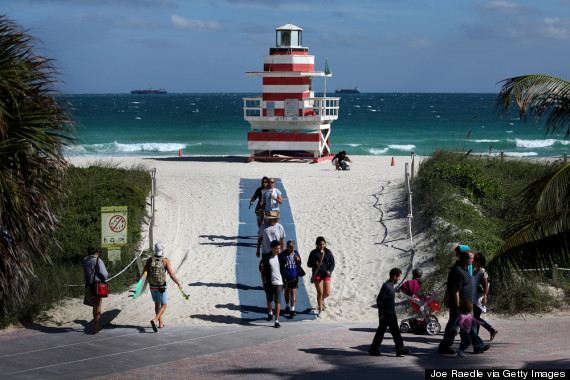 (Joe Raedle/Getty Images)
Of course, other U.S. cities -- like Anchorage, Alaska -- have also experienced much warmer-than-average winters, while cities like Minneapolis and Detroit join Chicago's ranks among those experiencing near-record cold winters as well.
Janie Campbell contributed to this report.
BEFORE YOU GO
PHOTO GALLERY
Connect The Dots On Climate Change