Dove's parent company, Unilever, has decided to pull the plug on a planned billboard for its new deodorant line that refers to New Jersey as the "armpit of America".
The billboard's message -- which was supposed to read "Dear New Jersey, When people call you 'the Armpit of America,' take it as a compliment. Sincerely, Dove" -- was unveiled last Thursday. Predictably, it ticked off residents.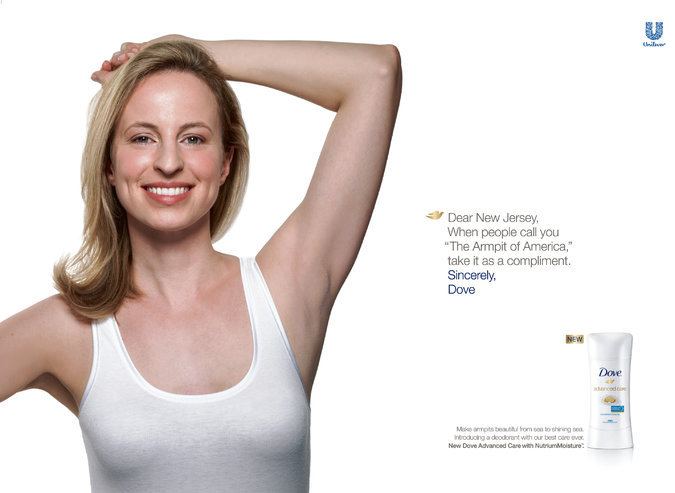 "We don't stink," Secaucus resident Joan Gazzillo told The New York Times. "In fact we're a great state. Everyone wants to live here."
The ire of New Jersey residents was particularly apparent on Dove's Facebook page. Following Thursday's report, one woman wrote:
I use Dove Soap exclusively because it is a great product. However, your Dove Deodorant armpit commercials are offensive on several levels. Referring to New Jersey as the 'armpit of America' is a step too far, not amusing to NJ residents who live in its many beautiful places. The whole armpit theme 'stinks'. Its a little too personal. It makes me wonder what you will be showing next.
The billboards were part of a larger advertising campaign aimed at creating a more positive image for the word "armpit."
Following the decision to ditch the ads, Dove's social media team has been directly responding to Facebook posts with a message they will not be moving forward with the billboard.
Thank you for your comments. With our "Dear New Jersey" advertisement, Dove Deodorant never intended to upset the residents of the state. As a result of your feedback, Dove Deodorant will not be moving forward with publishing or displaying this ad.