Firetrucks are parked outside of an Oklahoma home, but there is no fire.
The local firemen are there to support 3-year-old Daniel Christiansen. This February, his doctors told the Christiansen's that their son's Neuroblastoma was terminal and gave him just weeks to live. According to KTPV, the boy's parents asked their local fire department to fulfill Daniel's wish to ride on one of their trucks, but after meeting him they went above and beyond the family's request; they inducted Daniel into their brotherhood.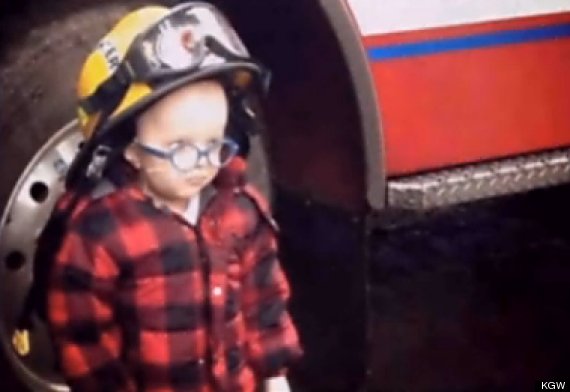 He is now considered an honorary firefighter. "When one is hurt, we all come together," Lincoln City Volunteer Firefighter George Blacketer told KPTV.
And that "all" he's referring to extends beyond the Lincoln City department. His home department set up a Facebook support page called "Firefighters for Team Daniel." With more than 18,000 likes, firefighters from across the nation -- and world -- have sent their support. Many have made Daniel an honorary member of their districts as well:
KGW reports that Daniel's story has reached departments as far as Alpine, Australia. "I have not seen firefighters come together like this since 9/11," firefighter Marc McPherson said. "Firefighters have a brotherhood like no other."
The family has created a Go Fund Me page asking supporters to help cover Daniel's medical bills. The page's description is written from Daniel's perspective. "I do not [want] my [debt] to be a financial burden on my family as they have paid so much for my treatments over these past few years. Any support you can give them would be greatly appreciated," he wrote. So far, they've raised more than $2,000 of the $10,000 goal.
"I know he'll keep fighting until the day the cancer takes the fight from him," dad told KGW.
For now, Daniel's new friends are staying strong for him.
"We truly take care of our own," said McPherson.
BEFORE YOU GO
PHOTO GALLERY
Random Acts Of Kindness