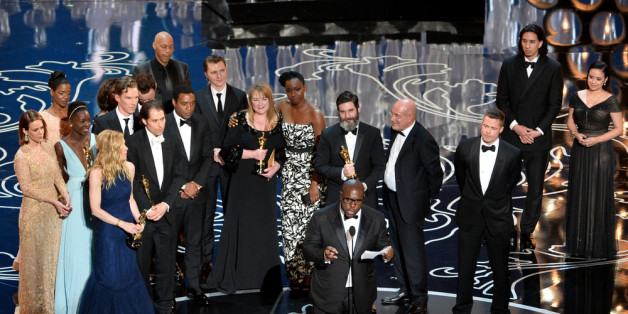 "12 Years a Slave" writer John Ridley, who won an Oscar on Sunday night for his work in adapting Solomon Northup's title memoir, says he did not leave director Steve McQueen out of his acceptance speech on purpose.
"Listen, without Steve McQueen I wouldn't have this Oscar tonight," Ridley said to a reporter from the New York Post at Vanity Fair's annual Oscar party on Sunday night following the Academy Awards. "I owe a lot to the genius of Steve McQueen, and I am forever grateful to have had the chance to work with him." According to Ridley, he neglected to mention McQueen because of time constraints and "emotion" in the moment.
Which isn't to say that Ridley and McQueen are best friends, at least according to multiple sources. After Ridley won Best Adapted Screenplay on Sunday, McQueen responded with what appeared to be cursory applause:
McQueen also left Ridley out of his acknowledgments when the director accepted Best Picture at Sunday's awards. (McQueen was a producer on "12 Years a Slave" as well.) According to Nikki Finke, McQueen and Ridley battled over screenwriting credit on "12 Years a Slave." That story was confirmed by TheWrap's Jeff Sneider, who noted the two men were engaged in a "bitter feud."
McQueen tapped Ridley to work on a separate slavery-themed project that eventually led to "12 Years a Slave" after McQueen's wife discovered the book, which Ridley subsequently agreed to adapt on spec. McQueen had a hand in shaping the script that Ridley turned in, but when he asked the writer for shared credit — not uncommon in Hollywood — Ridley politely declined, an individual with knowledge of the situation told TheWrap.
According to TheWrap, McQueen went to "12 Years a Slave" studio Fox Searchlight to appeal for credit, but was denied. (TheWrap story also makes reference to McQueen reportedly yelling at Ridley's wife during the BAFTA Awards and making her cry. While some incident did happen at BAFTA, Page Six reports that it was a "misunderstanding" and McQueen later apologized.)
McQueen has not made public comment on his snub of Ridley at the Oscars -- whom he also failed to thank at the BAFTA Awards -- but the director did express gratitude to the screenwriter at the Golden Globes. McQueen's representatives told HuffPost Entertainment that they had no comment on this report.
For more on McQueen and Ridley, head to Page Six and TheWrap.
BEFORE YOU GO
PHOTO GALLERY
Oscars Red Carpet 2014