This clip is part of HuffPost Live's "Tell Me Why" series, featuring young enthusiasts discussing the subjects they're passionate about -- from horror movies to string theory -- with experts.
Seven-year-old physics enthusiast Oliver Chapman joined HuffPost Live to discuss atoms, subatomic particles and even string theory.
Chapman's father introduced him to the world of atoms when he was just 3 or 4 years old, and he's had a strong interest in physics ever since. He's so excited about science that he even showed off a drawing he'd done of an atom to host Josh Zepps and theoretical physicist Jim Gates.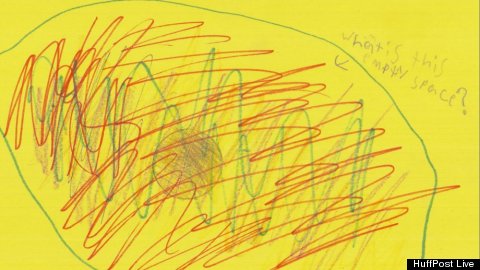 Seven-year-old Oliver Chapman's depiction of an atom.
Moving beyond simple atoms, the curious scientist-in-the-making wanted to know more about the Higgs boson and fields like it. Also known as the "God Particle," it is a complex particle that scientists say helps them understand what caused the Big Bang 13.7 billion years ago.
See the full HuffPost Live segment with the 7-year-old science lover below.
BEFORE YOU GO
PHOTO GALLERY
Cute Kid Notes