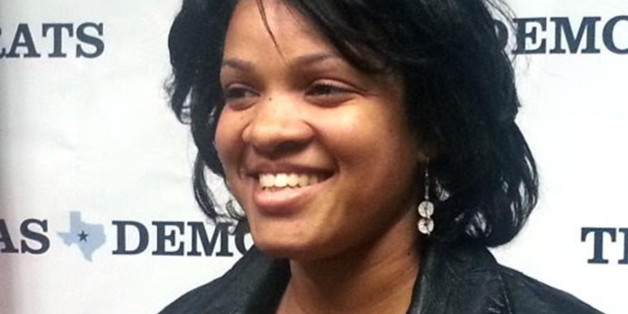 WASHINGTON -- Kesha Rogers, a political activist who wants to impeach President Barack Obama and has compared Obamacare to the policies of the Nazi regime, has unexpectedly surged in the race to become Texas' Democratic nominee for U.S. Senate.
Rogers is a follower of Lyndon LaRouche, who heads a fringe political movement that has been compared to a cult. His supporters are often seen carrying signs depicting Obama with a Hitler mustache. One of Rogers' own campaign posters features that image, and reads, "Down with the Traitor! Impeach!"
Five candidates are facing off Tuesday in the Democratic primary election for the chance to unseat Sen. John Cornyn (R-Texas) in November. A Feb. 24 poll by The University of Texas and The Texas Tribune showed Rogers leading the field. David Alameel, a Dallas dentist being supported by Democratic gubernatorial candidate Wendy Davis, came in second in the poll, even though he's the best-financed candidate. Maxey Scherr, an El Paso attorney who's backed by Rep. Beto O'Rourke (D-Texas) and former Rep. Silvestre Reyes (D-Texas), came in third.
Rogers' surge has caught the Texas Democratic Party off guard -- and political observers are at a loss to explain it. Former Rep. Martin Frost (D-Texas) speculated on MSNBC Monday that Rogers' boost is due to name recognition; she previously ran for Congress in 2010 and 2012.
Emmanuel Garcia, the communications director of the Texas Democratic Party, told The Huffington Post Tuesday that he didn't expect any candidate would win the primary outright and that a run-off election was likely. In such a scenario, Garcia said he is confident that Rogers would lose.
"In the end, if this goes into a run-off -- and it will likely go into a run-off -- we're confident that an outstanding Democratic candidate will prevail," said Garcia.
Garcia added that Rogers has been on his radar for some time, and the party's been trying to warn voters to steer clear of supporting her. It has disavowed the LaRouche organization, passing a resolution in December stating, "Texas Democratic Party will have no relationship with the campaign of any person indentifying [sic] him or herself as aligned with the LaRouche Movement or Lyndon LaRouche." The party has also disseminated a fact sheet about Rogers to its members and local chairs.
The Alameel and Scherr campaigns have both dismissed the February poll as insignificant. But the Rogers campaign argues the Democratic Party is ripe for a takeover.
"The Texas Democratic party 30 years ago was directly in line with what Kesha stands for," Rogers Campaign Manager Ian Overton told the Hill. "We think the Democratic Party has been hijacked by Wall Street interests. Kesha is trying to bring it back to what it believed in."
On the Republican side, Cornyn is facing a field of seven challengers, although he has maintained a commanding lead in the polls. Rep. Steve Stockman (R-Texas) launched the most high-profile conservative bid to unseat Cornyn, but his campaign has suffered high-profile missteps.
BEFORE YOU GO
PHOTO GALLERY
Senate Seats Up For Grabs In 2014