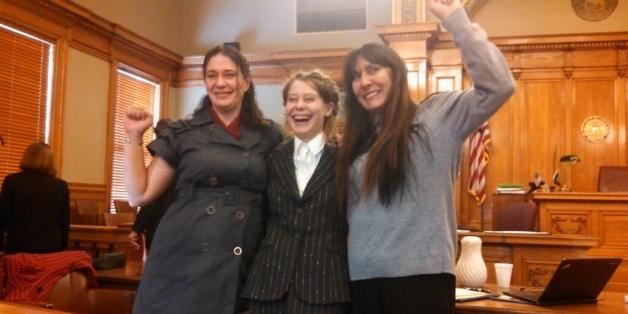 Three women each face up to two years in prison for protesting the replacement of an oil pipeline in western Michigan responsible for the biggest inland oil spill in U.S. history.
The activists have a cute nickname: The MI-CATS 3 (they are affiliated with the Michigan Coalition Against Tar Sands -- MI-CATS). But the possible prison sentences awaiting Vicci Hamlin, Lisa Leggio, and Barb Carter are no laughing matter. They will be sentenced Wednesday in Ingham County, Mich., for obstructing police and trespassing.
The protesters locked themselves to excavating machines at a pipeline construction site of Calgary-based Enbridge Inc. near Stockbridge, Mich., in July. State police cut the protesters from the machinery and arrested them, along with seven others affiliated with MI-CATS, Jake McGraw, a member of the group, told The Huffington Post.
The women said they wanted to stop work on Enbridge's Line 6B, which ruptured in 2010, spilling more than 800,000 gallons of tar sands oil into a Kalamazoo River tributary. It was the largest inland oil spill in U.S. history.
Enbridge has been working to replace the 285-mile pipeline, which runs from Sarnia, Ontario, through Michigan to Griffith, Ind. The leak polluted 30 miles of the Kalamazoo River in western Michigan and has cost the energy company more than $1 billion to clean up. Enbridge missed its Environmental Protection Agency deadline for removing spilled oil in December.
The protesters put their own safety and the safety of pipeline workers and emergency responders at risk by trespassing and "illegally gaining access to the equipment," according to an Enbridge statement in July to MLive. Enbridge did not respond to The Huffington Post's request for comment.
In January, Hamlin, Leggio and Carter were convicted of misdemeanor trespassing, along with a felony charge of restricting and obstructing police officers, which carries a maximum sentence of two years in prison. The judge wouldn't allow the women to use environmental necessity as a defense, McGraw said. The jury deliberated for nine hours before returning the verdict.
A fourth protestor, William Michael Lawrence, 22, of East Lansing, Mich., pleaded guilty to the obstruction charge and was sentenced to probation. Other protestors who were arrested were never charged.
Ingham County Circuit Judge William Collette revoked bond for the women following their convictions and sent them to jail to await sentencing.
Hamlin, 60, is a veteran social activist who worked as a domestic abuse counselor in Indiana until she was taken into custody. Her great-grandchild was born while she was in jail. Leggio, 35, who logged almost 200 hours of service in the two weeks after Hurricane Sandy, became a grandmother while she's been behind bars. Carter, 22, of Detroit, is an Occupy Detroit member who lives near a Marathon oil refinery that she said makes it hard for her to breathe when she goes outside. Leggio has a prior felony conviction, according to MLive.
Tar sands oil has become a hotbed issue in the Midwest. The Marathon refinery in Southwest Detroit was recently retrofitted to process more crude oil from Canada. Last summer, large mounds of refinery waste called petcoke were dumped on the banks of the Detroit River. The petcoke is a byproduct from that refinery, sold as fuel overseas. The three-story pile of petcoke was supposedly "contained," but reports said some blew into the path of freighters and onto homes.
McGraw said he found the felony charge for restricting and obstructing police officers troubling. The women were charged with the offense because they did not detach themselves from the machinery, although their defense attorney argued during trial that police never issued a direct order.
"All the officers testified that they were well behaved, that they were friendly, that they were courteous," McGraw said. "They could have assaulted the officer and received the exact same charge."
The case has attracted national attention. A petition delivered to the judge asking for sentencing leniency has garnered more than 60,000 signatures. McGraw said the MI-CATS are receiving 500 letters a week each in jail. He said they are doing well.
"They are really remarkable in that they are staying positive and standing in their belief in this," McGraw said. "They haven't shown any regrets for what they've done. They believe they are in the right about this."
"Even if we're found guilty, we consider it a victory, because that was the whole goal of what we did, was to bring to light the expansion of the pipeline and the spill and Enbridge and all of that," Leggio told reporters after being convicted. "Even if you don't see a direct link -- we didn't stop this pipeline, obviously. It's still being expanded ... But don't doubt for one second the ripple effect of what you do. You throw one little stone, and it creates a ripple. Do not forget that."
BEFORE YOU GO
PHOTO GALLERY
Connect The Dots On Climate Change