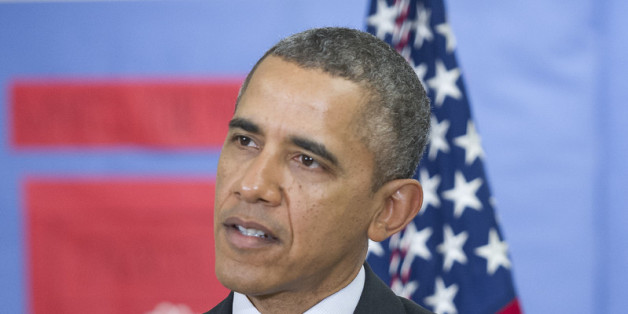 President Obama says he can lift 500,000 Americans out of poverty with just one move.
In his proposed budget for fiscal 2015, released on Tuesday, Obama called for expanding the Earned Income Tax Credit, a tax break for low-income workers, to reach more childless adults. Such a change could move 500,000 workers above the poverty line and help 10.1 million childless workers become less poor, according to a Treasury Department analysis. (Story continues after Treasury Department chart.)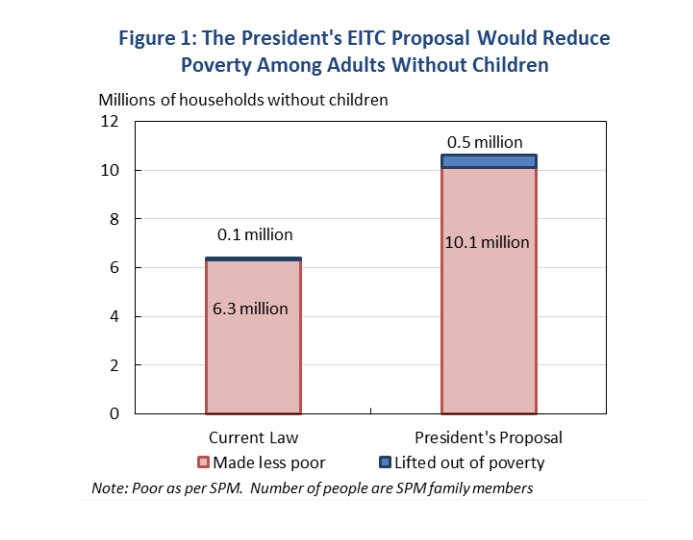 Obama's proposal would lower the age childless workers are eligible for the credit, which is meant to encourage work, from 25 to 21 and increase their maximum benefit.
Currently, the credit most helps low-income workers with children, by giving them a tax refund that in some cases can total several thousand dollars a year.
For low-income workers without kids, or those that aren't the custodial parent of their kids, the credit maxes out at about $500, and workers rarely end up claiming that much.
"It's like one glaring hole in the EITC that this population is pretty much ignored," said Chuck Marr, the director of federal tax policy at the Center on Budget and Policy Priorities, a left-leaning think tank. "This is the one group that faces taxes even when they're in poverty."
The chart below from the CBPP shows how the current refund from the EITC does little to offset childless workers' tax liabilities. (Story continues after chart.)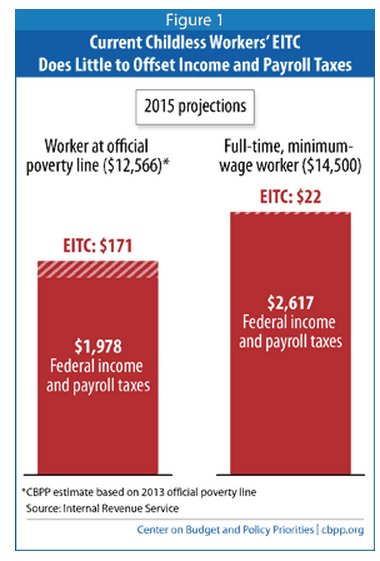 Expanding the EITC would help reduce poverty in two ways, according to Thomas Hungerford, a senior economist at the Economic Policy Institute, another left-leaning think tank. First, it would give childless low-income Americans who are already working an income boost. And expanding the credit would encourage more people to work.
"It was designed to get people into the workforce because you can only get it if you have earned income," Hungerford said.
Many argue that this is one of the most direct ways to help low-income workers. In 2011, the credit lifted 6.6 million people above the poverty line, according to an IRS estimate cited by the Associated Press. An EITC expansion only benefits the poor, unlike a minimum-wage hike, which could help some people who are not poor, like those working minimum-wage jobs for extra cash.
Expanding the EITC is also more politically palatable than a minimum-wage hike, which many conservatives oppose, arguing it will discourage businesses from hiring minimum-wage workers.
Still, raising the minimum wage to $10.10 an hour, as Obama and Senate Democrats have proposed, would lift 5 million Americans out of poverty, according to University of Massachusetts-Amherst economist Arindrajit Dube.
"I've always thought of them as kind of complementary policies," Hungerford said of raising the minimum wage and expanding the EITC. "The minimum wage will raise people's hourly wage, and they'll see an increase in their paycheck. The earned income tax credit is one of the things people usually get when they file their income taxes. Most of them get money back from the government, but that's once a year."
BEFORE YOU GO
PHOTO GALLERY
People Who Hate The Minimum Wage