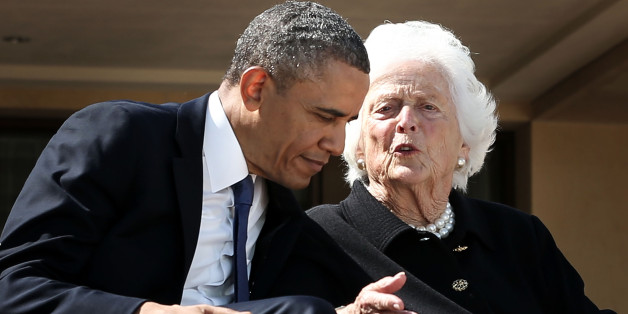 Former first lady Barbara Bush is evolving in her views on a potential presidential run by former Florida Gov. Jeb Bush (R).
Bush sat down with Fox News in an interview that aired Wednesday in which she said "maybe it's OK" if her son runs in 2016.
In a NBC interview last April, she said, "We've had enough Bushes."
In January she explained her position in an interview with CNN.
"I would hope that someone else would run, although there's no question in my mind that Jeb is the best qualified person to run for president, but I hope he won't, because I think he'll get all my enemies, all his brother's, all -- and there are other families," Barbara Bush said. "I refuse to accept that this great country isn't raising other wonderful people."
After his mother's comments, Jeb Bush suggested that he had chatted with her about introducing a filter when she discusses her family's future political ambitions with the press.
"She promised me she wouldn't keep saying this," Jeb Bush told CBS Miami in January. "But she is 89 years old and if you have elderly parents or grandparents, you know they speak their mind," he added. "There is not much stopping between thinking and speaking. I love her."
Jeb Bush served as governor of Florida from 1999 to 2007. He is considered a leading contender for the Republican nomination were he to jump into the race. His son George P. Bush won the GOP nomination for Texas land commissioner in a primary Tuesday.
BEFORE YOU GO
PHOTO GALLERY
George W. Bushisms Over The Years