The panel on E!'s "Fashion Police" crossed the line when they ruthlessly mocked pregnant Elsa Pataky's Oscars look.
Pataky is currently pregnant with twins. On Sunday, the gorgeous actress attended the Oscars with her husband, Chris Hemsworth. She wore a glittering turquoise Elie Saab gown with a drop-waist that accentuated her figure.
Apparently, Joan Rivers and company weren't impressed with the ensemble and proceeded to trash the pregnant starlet.
"First of all, I'm sorry, look at her tummy," Rivers said. "We now know that Thor's hammer works in real life too. She is ... huge! Come on. I know why she's huge. I saw her sonogram," she added before showing a shot of Ellen DeGeneres' Oscars group selfie.
"The last thing I wanna do is rip on a pregnant woman because it is incredible that you can do this with your bodies," stylist George Kotsiopoulos said. "But I would be remiss to not ... it's a horrible dress on her. That doesn't look like a baby bump, it looks like a beer belly. I'm sorry and I acknowledge that that's a horrible thing to say, but it's the wrong dress on this woman."
Kelly Osbourne also added her two cents, saying it was "not the appropriate dress to wear if you are pregnant." But the group attempted to end on a positive note, calling Pataky a beautiful woman.
Some have spoken out against "Fashion Police" for its potentially harmful criticism. In November, Jennifer Lawrence blamed it for showing younger generations to judge people based on their physical appearances and for making it okay to use words like "ugly" and "fat."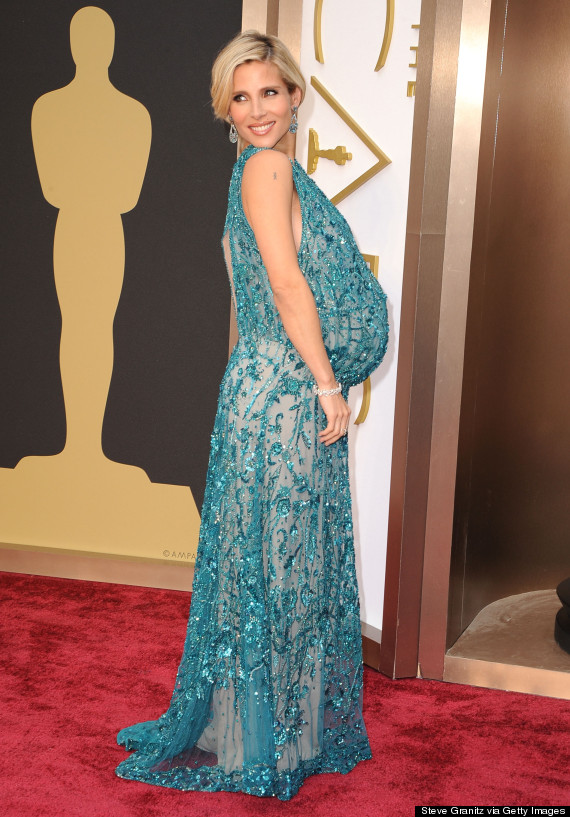 BEFORE YOU GO
PHOTO GALLERY
Oscars Red Carpet 2014