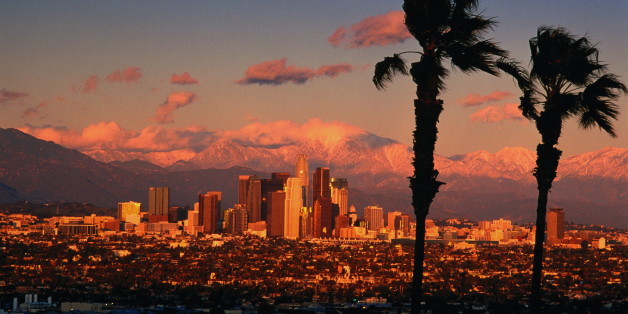 Los Angeles Mayor Eric Garcetti is in Mexico City on a three-day trade mission he says underscores the reasons why the City of Angeles needs its south of the border neighbor to survive economically in the coming years.
At the same time, Garcetti says Los Angeles offers Mexico its best in strengthening its own economy.
"So here's to two great cities who are sisters, two mayors who are now brothers, and to all of us seeing a future that will be written together," said Garcetti, whose paternal grandfather was Mexican.
In a nutshell, these are the top 8 reasons L.A needs Mexico:
1. To Beat Other U.S. Cities Looking at Mexico
Right off the bat Garcetti signed an agreement called the "Los Angeles-Mexico City International Cities Economic Alliance," with Mexico City Mayor Miguel Angel Mancera Espinosa, in an effort to broaden shared economic goals, investments and trade. Other U.S cities also look to Mexico for investment and trade opportunities but L.A aims to be the go-to partner of the North American country when it comes to either of these.
2. To Expand Business at the Port
City officials believe that attracting more cruise ships from Mexico into stops at the Port of Los Angeles could spark not only port trade but also business from the tourists coming off of those ships. With an eye on their spending dollars, Los Angeles wants to be a glittering tourist destination for these cruise goers who otherwise might not have stepped foot in L.A.
3. To Serve as a Magnet for Investors
Monday evening Garcetti met with 200 Mexican industrialists in a private closed-door session to pitch his city as a place to invest, acknowledging there are environmental rules that must be navigated but indicating there may be inducements for doing so. Los Angeles is thirsty for investors, and exerting somewhat of a gravitational pull on investment dollars is high on the city's agenda.
4. To Push Its Home Businesses
With franchise restaurants facing tough times, Tuesday morning Los Angeles Mayor Garcetti showed off a major expansion of LA-based Panda Express restaurants in Mexico as an example of what businesses from Los Angeles can offer its neighbors. Being able to sell local restaurant chains and other businesses to the Mexican people is a way for LA to increase its capital.
5. To Share its High Tech Opportunities
Earlier this week Garcetti also met with the U.S. ambassador to Mexico as well as the mayor of Mexico City, discussing the potential for cross-border sharing of technology and development.
6. To be on top of the Immigration Reform wave
With the second largest population of Mexican nationals outside of Mexico City, Los Angeles officials want to continue being "a community with a heart" as the country moves slowly to an overhaul of immigration laws. Being ahead of the curve on the immigration reform wave could play favorably in L.A's future business relations with Mexico.
7. To Further Entertainment Ties
As more film and television productions move to Canada and states with tax breaks, Los Angeles hopes it can offer incentives of its own for production companies to remain in Tinseltown and for foreign filmmakers like those in Mexico to increase their links with Hollywood.
8. To Foster Academic Partnerships
Garcetti will particpate in signing ceremonies between Loyola Marymount University and the Instituto Tecnológico Autónomo de México establishing an education exchange program, as well as between California State University, Northridge and the National Autonomous University of Mexico setting up a Center for Mexico and Latin American Studies at the Northridge campus.
"We're a global city and part of a global economy, and local jobs in L.A. depends on those strong ties that we have," Garcetti told reporters. "So I"m gonna be out there as the mayor of L.A. hustling for that investment, to get those contracts."
Garcetti claims Mexico is already a critical partner for Los Angeles' economy as the city's second-largest export market and one of the county's largest sources of foreign investment.
In 2010, the last year these figures were available and recorded by the Brookings Institute, total trade between Los Angeles and Mexico amounted to $14.91 billion, and trade between L.A. and Mexico City alone was $2.18 billion.
Originally published on VOXXI as 8 reasons L.A needs Mexico
BEFORE YOU GO
PHOTO GALLERY
10 Cities More In Need Of Securing Than The Border